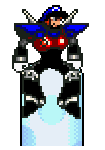 Personality
Positive:Defends his friends, kinda sympathtic,appreciates nature and has sense of justice.
Negative:Irritable, jackass-like, exploits power, imposes his will and can be almost homicidal.
Powers
Extreme swordfighting skills,lazer shooting spikes, author powers and robotic strengh.
Appearance
Blue plumber hat with symbol, shoulder spikes, red armour, black torso and spiked boot clips.
Family
Mother: None
Father(technical way): Dr.Sinin Marlo Milan.
Ad blocker interference detected!
Wikia is a free-to-use site that makes money from advertising. We have a modified experience for viewers using ad blockers

Wikia is not accessible if you've made further modifications. Remove the custom ad blocker rule(s) and the page will load as expected.