Ad blocker interference detected!
Wikia is a free-to-use site that makes money from advertising. We have a modified experience for viewers using ad blockers

Wikia is not accessible if you've made further modifications. Remove the custom ad blocker rule(s) and the page will load as expected.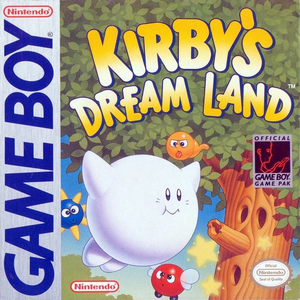 The 
Kirby
series is a 
fantasy
video game
 series developed by 
HAL Laboratory
 and produced by 
Nintendo
. The series mainly consists of 
action
, 
platform
 and 
puzzle
-solving elements. The series is known for its bright and artistic settings, simplistic gameplay, cute characters, upbeat cheerful music, and the protagonist's in-game ability to inhale enemies, thereby gaining a characteristic ability from them. Currently, the series includes a total of over 
twenty games
, and has sold over 30 million units worldwide.
First generation (1992-2001)
Games released
Kirby's Dream Land (1992)
Kirby's Adventure (1993)
Kirby's Pinball Land (1993)
Kirby's Dream Course (1994-1995)
Kirby's Dream Land 2 (1995)
Kirby's Avalanche (1995)
Kirby's Block Ball (1995-1996)
Kirby Super Star (1996-1997)
Kirby's Star Stacker (1997)
Kirby's Dream Land 3 (1997-1998)
Kirby's Kirakira Kids (1998-1999)
Kirby 64: The Crystal Shards (2000-2001)
Kirby Tilt 'n' Tumble (2000-2001)
Other media
Kirby of the Stars: The Story of Dedede Who Lives In Pupupu (1995-2006)
Second generation (2001-2010)
Games released
Kirby: Nightmare in Dream Land (2002-2003)
Kirby Air Ride (2003-2004)
Kirby & the Amazing Mirror (2004)
Kirby Canvas Curse (2005)
Kirby Squeak Squad (2006-2007)
Kirby Super Star Ultra (2008-2009)
Games re-released from the Wii Shop Channel
Kirby's Adventure (2007)
Kirby's Avalanche (2007)
Kirby's Dream Course (2007)
Kirby 64: The Crystal Shards (2008)
Kirby's Dream Land 3 (2009)
Kirby Super Star (2009-2010)
Other media
Kirby: Right Back at Ya! (2001-2003/2002-2006)
Third generation (2009-present)
Games released
Kirby's Epic Yarn (2010-2011)
Kirby's Return to Dream Land (2011)
Kirby's Dream Collection: Special Edition (2012)
Kirby: Triple Deluxe (2014)
Kirby and the Rainbow Curse (Wii U) (2015)
Games re-released from Nintendo eShop
Kirby's Dream Land (3DS)
Kirby's Adventure (3DS/Wii U)
Kirby's Block Ball (3DS)
Kirby's Pinball Land (3DS)
Kirby's Star Stacker (3DS)
Kirby Super Star (Wii U)
Kirby's Dream Course (Wii U)
Kirby's Dream Land 3 (Wii U)
Kirby's Dream Land 2 (3DS)
Upcoming games
Kirby: Planet Robobot (3DS) (2016)
Other media
Kirby 3D (2009/2012)
Kirby of the Stars anime on Wii no Ma (2009-2010)
Kirby TV Channel (2011-2012)
Characters
Main Article: Kirby/Characters/Gallery
Parodies