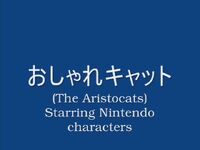 Cast
Version 1 (made by FirePuppy in September 2009)
Memu/Lady Like as Madame Bonfamille
Parm/Sir Ebrum as Georges Hautecourt
Ludwig von Koopa as Chinese Cat
Morton Koopa Jr. as Italian Cat
Larry Koopa as Russian Cat
Princess Daisy as Abigail
Escargon as Uncle Waldo
The Milk Man as himself
DVD print
Note: This DVD is 100% fanmade and will therefore not be officially released.
Supplements:
Audio Commentary
Interactive Menus
Theatrical Trailers
Scene Access
Languages: Japanese & English (Dolby Digital 2.0 Surround)
Subtitles: English, French, Spanish, Portuguese, Chinese, Korean, Thai, Indonesian
Trivia:
This fan film is closed-captioned by the Caption Center WGBH Educational Foundation, and is also a translation of the Japanese dub.
The commentary is done with Speakonia.
This DVD is coded for Regions 2, 3, 4, 5 and 6 (in other words, it is incompatible with standard North American DVD players).
Clips of more than 50 Kirby episodes, at least 3 episodes of Adventures of Super Mario Bros. 3 and Super Mario World, and the film itself are used here.
Version 2
Tiff as Duchess
Ribbon as Marie
Tuff as Berlioz
Keeby as Toulouse
Kirby as Thomas O'Malley
Spikehead as Napoleon
Iroo as Lafayette
Princess Rona as Amelia Gabble
Silica as Abigail Gabble
King Dedede as Edgar
Meta Knight as Roquefort
Knuckle Joe as Scat Cat
Pon as Shun Gon
Magolor as Peppo
Con as Billy Boss
Kine as Russian Cat
Sir Ebrum as George Hautecort
Lady Like as Madame Adelaide Bonfamile
Adeleine as Frou-Frou
Tokkori as Uncle Waldo
Escagroon as Milk Man
Version 3
Adeleine as Duchess
Ribbon as Marie
Tuff as Berlioz
Keeby as Toulouse
Kirby as Thomas O'Malley 
Iroo as Napoleon
Spikehead as Lafayette
Silica as Amelia Gabble
Princess Rona as Abigail Gabble
King Dedede as Edgar
Meta Knight as Roquefort
Knuckle Joe as Scat Cat
Pon as Shun Gon
Magolor as Peppo
Con as Billy Boss
Kine as Russian Cat
Sir Ebrum as George Hautecort
Lady Like as Madame Adelaide Bonfamile
Tiff as Frou-Frou
Tokkori as Uncle Waldo
Escagroon as Milk Man