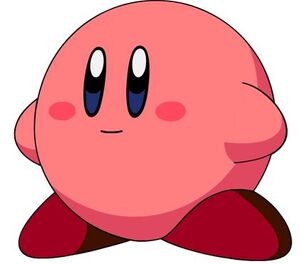 Kirby
is a pink ball, one of the most popular characters of nintendo. Kirby's debut was 1992 in
Kirby's Dream Land
game. Normally Kirby games are platformers.
Kirby is able to inhale his enemies and copy them to get their abilities.
Bio
Skin Color: Pink
Clothing: Red Shoes
Friends: Tuff, Knuckle Joe, Tiff, Keeby, Rick the Hamster, Tokkori, Fox, Falco, Wario, Pikachu, Jigglypuff, Pichu, Pokemon Trainer, Lucario, Charizard, Lucario, Greninja, Villager, Olimar, Mii Fighters, Wii Fit Trainer, Shulk
Rivals: King Dedede, Meta Knight, Galacta Knight, Waddle Dee, Snake,Sonic, Bayonetta, Pac-Man, Ryu, Mega Man, Cloud
Enemies: Nightmare, Marx, Wolf, Mewtwo
Video Game Appearances
Kirby's Dream Land (1992)
Kirby's Adventure (1993)
Kirby's Pinball Land (1993)
Kirby's Dream Course (1994 - JP/1995 - US)
Kirby's Dream Land 2 (1995)
Kirby Super Star (1996)
Kirby's Dream Land 3 (1997)
Super Smash Bros. (1999)
Kirby 64: The Crystal Shards (2000)
Kirby Tilt' n' Tumble (2000 - JP/2001 - US)
Super Smash Bros. Melee (2001)
Kirby Nightmare in Dream Land (2002)
Kirby's Air Ride (2003)
Kirby & the Amazing Mirror (2004)
Kirby: Squeak Squad (2006)
Super Smash Bros. Brawl (2008)
Kirby Super Star Ultra (2008)
Kirby Epic Yarn (2010)
Kirby Mass Attack (2011)
Kirby Return to Dream Land (2011)
Kirby: Triple Deluxe (2014)
Super Smash Bros. for Nintendo 3DS (2014)
Kirby and the Rainbow Curse (2014)
Super Smash Bros. for Wii U (2014)
Kirby and the Rainbow Curse (2015)
Kirby: Planet Robobot (2016)
Counterparts (Kirby Version) (Male Version)

 WARNING: You may add appropriate counterparts. But, do NOT delete any.
Thomas the Tank Engine or Percy the Small Engine (Thomas the Tank Engine and Friends/The Railway Series)
Ten Cents, Claude, Salty, or Boomer (Salty's Lighthouse)
Theodore or Hank (Theodore Tugboat)
Wilson or Brewster (Chuggington)
Mario, Yoshi, Luigi, or Toad (Super Mario Bros.)
Bowser Junior, Bowser, Joseph, or Toad (SuperMarioLogan)
Sportacus or Ziggy (Lazytown)
Timmy Turner or Baby Poof (The Fairly OddParents; the latter is Round)
Arthur Read or Buster Baxter (Arthur/Postcards from Buster)
P.J. Duncan or Gabe Duncan (Good Luck Charlie)
Mickey Mouse, Donald Duck, Goofy, or Pluto (Mickey Mouse)
Pooh, Piglet or Roo (Winnie the Pooh)
Young Link or Link (The Legend of Zelda)
Young Simba (The Lion King)
Zephyr (The Hunchback of Notre Dame)
Mike Wazowski (Monsters, Inc., Kirby and Mike are both round and funny)
Blanky (The Brave Little Toaster)
Spike (My Little Pony: Friendship is Magic)
Eddy or Ed (Ed, Edd 'n' Eddy)
Bhairon Singh or Tapasviji (PeeKay (2014))
Stitch or Reuben (Lilo & Stitch)
Shaun, Bitzer or Timmy (Shaun the Sheep)
Cat (CatDog) 
Rex or Buster (We're Back! A Dinosaur's Story)
Stan Marsh, Kenny McCormick or Kyle Broflovski (South Park)
Chowder (Chowder)
Bruce Bogtrotter (Matilda) 
Baby Butter Otter (PB&J Otter)
Jin Kazama (Tekken)
Edward (Fullmetal Alchemist)
Henry Hugglemonster Cobby Hugglemonster or Denzel Dugglemonster (Henry Hugglemonster)
Willy the Bee (Maya the Bee/Movie, both are funny, clumsy and character who can fly)
Barney (Barney & Friends)
Counterparts (Female Version)
Counterparts (Super Smash Bros. Version)
Counterparts (There Will Be Brawl Version)
Hun or Utrom Shredder (Teenage Mutant Ninja Turtles)
Sykes (Oliver and Company)
Miles Axelrod (Cars)
Counterparts (Super Mario Version)
Counterparts (Sonic Version)
Parodies

 WARNING: You may add parodies. But, do NOT delete any. Complete parodies list
Gallery
Ad blocker interference detected!
Wikia is a free-to-use site that makes money from advertising. We have a modified experience for viewers using ad blockers

Wikia is not accessible if you've made further modifications. Remove the custom ad blocker rule(s) and the page will load as expected.