Welcome to the Kitesurf mini wiki at Scratchpad!
You can use the box below to create new pages for this mini-wiki. Make sure you type [[Category:Kitesurf]] on the page before you save it to make it part of the Kitesurf wiki (preload can be enabled to automate this task, by clicking this link and saving that page. Afterwards, you may need to purge this page, if you still see this message).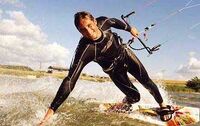 Swirling around the hemispheres are large scale rotating systems of air - Polar, Hadley and Ferrel Cells. Feeding into and away from these cells are the jet streams, trades and prevailing winds that we live for.
Kitesurfing has seen exponential growth and development since its emergence and fringe years less than a decade ago. Around the world cells of independent kiters live for only one purpose - the next session.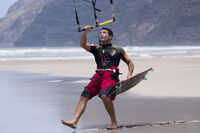 These kiters need a wiki and this could be it. Kitesurfers need to communicate, document their sessions, dreams and philosophy, give advice and warnings to newbys, nurture new talent and sustain those who live vicariously in non-coastal city environments. We'll tell each other where to kite, where not to kite, about the wind on Kitebeach, Tarifa or Gwithian last weekend, about the best new kit and kiting folklore. The sport is still so new and there are beaches that are virgin and coasts unridden.
You can edit this or any other pages, upload photos and embed videos from Google video or blip.tv etc. Let the dream grow ;-D
Here's a couple of videos to show you how to edit these pages, shows you how easy it is. For a more in depth guide see here.
Ad blocker interference detected!
Wikia is a free-to-use site that makes money from advertising. We have a modified experience for viewers using ad blockers

Wikia is not accessible if you've made further modifications. Remove the custom ad blocker rule(s) and the page will load as expected.