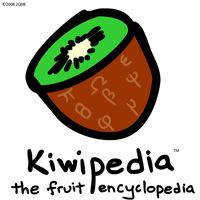 About
Kiwipedia is a total mockery of Wikipedia and its beliefs. It is a collaborative parody of Wikipedia in the format of a Wiki.
History
Kiwipedia was created on 6 January 2008 by a bored student who was fed up clicking permalinks to cite sources for his project. What an illustrious history. The word "Kiwipedia" itself can be derived by switching the letters "K" and "W" in Wikipedia.
Mission
Kiwipedia aims to provide useful and satirical articles about fruits around the world and enlighten the student population about their apparent 1337|\|355.