Ad blocker interference detected!
Wikia is a free-to-use site that makes money from advertising. We have a modified experience for viewers using ad blockers

Wikia is not accessible if you've made further modifications. Remove the custom ad blocker rule(s) and the page will load as expected.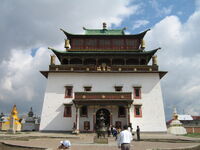 Klasztor Gandan
- Świątynia w mieście Ułan Bator w Mongolii, pierwotna siedziba Tajemniczego Mnicha Zagłady. Legenda głosi że kiedy nastąpi wielka walka z
Gadu-Gadu
to właśnie z tej świątyni wyjdzie Mnich Zagłady, aby ocalić świat przed za gadulnieniem.