Ad blocker interference detected!
Wikia is a free-to-use site that makes money from advertising. We have a modified experience for viewers using ad blockers

Wikia is not accessible if you've made further modifications. Remove the custom ad blocker rule(s) and the page will load as expected.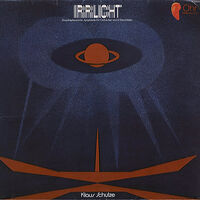 Артист       Klaus Schulze 
 Название     Irrlicht
 Тип          альбом
 Выпущен      1972
 Жанр         амбиент, современная академическая музыка, 
              классическая музыка, электроника
 Длительность 50:27 (CD: 74:24)
 Лейбл        Ohr
 Страна       Германия (ФРГ)

треклист
   Irrlicht, Quadrophonische Symphonie für Orchester und E-Maschinen
   (Quadrophonic symphony for orchestra and e-machines)
A1. I Satz - Ebene - 23:23
A2. II Satz - Gewitter (Energy Rise-Energy Collaps) - 5:39
B1. III Satz - Exil Sils Maria - 21:25

CD Bonus Track:
4. Dungeon - 24:00

состав
 Klaus Schulze - E-machines, organ, guitar, zither, voice, choir, percussion 
 Colloquium Musica Orchestra - 4 first violins, 4 second violins, 3 violas, 
 8 celli, 1 contrabass, 2 horns, 2 transverse flutes, 3 oboes

выходные данные
Recorded 1972 at "Musiksaal der Freien Universität Berlin" and at Studio Klaus Schulze.

избранные издания
ссылки