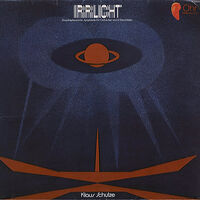 Артист       Klaus Schulze 
 Название     Irrlicht
 Тип          альбом
 Выпущен      1972
 Жанр         амбиент, современная академическая музыка, 
              классическая музыка, электроника
 Длительность 50:27 (CD: 74:24)
 Лейбл        Ohr
 Страна       Германия (ФРГ)

треклист
   Irrlicht, Quadrophonische Symphonie für Orchester und E-Maschinen
   (Quadrophonic symphony for orchestra and e-machines)
A1. I Satz - Ebene - 23:23
A2. II Satz - Gewitter (Energy Rise-Energy Collaps) - 5:39
B1. III Satz - Exil Sils Maria - 21:25

CD Bonus Track:
4. Dungeon - 24:00

состав
 Klaus Schulze - E-machines, organ, guitar, zither, voice, choir, percussion 
 Colloquium Musica Orchestra - 4 first violins, 4 second violins, 3 violas, 
 8 celli, 1 contrabass, 2 horns, 2 transverse flutes, 3 oboes

выходные данные
Recorded 1972 at "Musiksaal der Freien Universität Berlin" and at Studio Klaus Schulze.

избранные издания
ссылки
Ad blocker interference detected!
Wikia is a free-to-use site that makes money from advertising. We have a modified experience for viewers using ad blockers

Wikia is not accessible if you've made further modifications. Remove the custom ad blocker rule(s) and the page will load as expected.