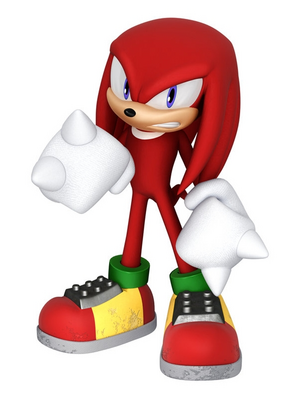 Knuckles the Echidna
is the tritagonist and former tertiary antagonist of the
Sonic the Hedgehog
video game series. He is a strong echidna and the the last one and a good friend of Sonic. He also guards the Master Emerald.
Video Game Appearances
Sonic the Hedgehog 3 (1994)
Sonic Triple Trouble (1994)
Sonic and Knuckles (1994)
Knuckles Chaotix (1995)
Sonic Drift 2 (1995)
Sonic the Fighters (1996)
Sonic 3D Blast (1996)
Sonic Blast (1996)
Sonic R (1997)
Sonic Adventure (DX) (1998, 2003)
Sonic Shuffle (2000)
Sonic Adventure 2 (Battle) (2001, 2002)
Sonic Heroes (2004)
Shadow the Hedgehog (2005)
Mario and Sonic at the Olympic Winter Games (2007)
Sonic Chronicles: The Dark Brotherhood (2008)
Mario and Sonic at the Olympic Winter Games (2009)
Sonic and Sega All-Stars Racing (2010)
Sonic Colors DS (2010)
Sonic Generations (2011)
Mario and Sonic at the London 2012 Olympic Games (2011)
Sonic and All-Stars Racing Transformed (2012)
MORE COMING SOON
Voice Actors
Bio (Do not edit)
Species: Anthropomorphic Echidna
Age: 16
Fur Color: Red
Clothing: Red and Yellow Striped Shoes, White Knuckle Gloves
Friends: Sonic, Tails, Amy, Cream, Vector, Espio, Charmy, Mighty
Rivals: Rouge, Shadow
Enemies: Dr. Robotnik, Metal Sonic, Egg Robo, Nack the Weasel, Dr. Zachary, Dr. Finitevus, Mephiles
Counterparts (Sonic Boy Version)
Espio, Vector, Bark, Omega, Shadow, or Sonic (Sonic the Hedgehog)
Big Mac/Big Stack or Top Hat (TUGS/Salty's Lighthouse)
George or Foduck (Theodore Tugboat)
Pixel, Ziggy, Stingy, Robbie Rotten, Mayor, or Sportacus (Lazytown)
Luigi, Wario, Donkey Kong, Mario or Oogtar (Super Mario Bros.)
Curly Howard (The Three Stooges)
Mr. Ratburn or Binky Barnes (Arthur)
Mr. Krabs, Squidward Tentacles, Larry the Lobster, SpongeBob SquarePants, or Tom the Fish (SpongeBob SquarePants) 
Knuckle Joe, Tokkori, Kirby or King Dedede (Kirby)
Pete (The Little Engine That Could)
Sam The Eagle or Fozzie Bear (The Muppet Show)
Goofy or Donald Duck (Mickey Mouse)
Rabbit or Christopher Robin (Winnie the Pooh)
Moneybags (Spyro the Dragon)
Shrek, Jeffy, Cher Pee Pee, Joseph, Bowser, or Bowser Jr. (supermariologan)
Crunch Bandicoot (Crash Bandicoot)
Wolverine (X-Men)
Mike Wormwood (Matilda)
Graham (Cubix: Robots For Everyone)
Kyle Broflovski, Kenny McCormick, Eric Cartman, Stan Marsh, or Chef McElroy (South Park)
King Harold or Puss in Boots (Shrek)
Hamm, Rex, Mr. Potato Head, Buzz Lightyear, Woody, or Slinky Dog (Toy Story)
Pumbaa, Adult Simba or Rafiki (The Lion King)
Flower or Friend Owl (Bambi)
Fred, Batman, Scooby, or Shaggy (Scooby Doo)
Bron, Topsy, Shorty, or Littlefoot (The Land Before Time)
Major Monogram, Ferb Fletcher, Jeremy Johnson, Phineas Flynn, or Perry the Platypus (Phineas and Ferb)
Numbuh 60 (Codename: Kids Next Door)
Moe or Herman (The Legendary Starfy)
Calvin's Principal (Calvin & Hobbes)
Mr. Plod (Noddy's Toyland Adventures)
Alf Thompson (Postman Pat)
Station Officer Steele (Fireman Sam)
Scalawag (Pinocchio and the Emperor of the Night)
Gus (A Troll in Central Park)
Simon Sevillie or Dave (Alvin and the Chipmunks)
Smiley Bone or Phoney Bone (Bone)
Schroeder, Shermy or Linus (Peanuts)
Guard Duck (Pearls Before Swine)
Harrison or Emery (Chuggington)
Shnitzel (Chowder)
Clause (Earthbound)
Toaster or Air Conditioner (The Brave Little Toaster)
Captain Falcon (Super Smash Bros.)
Zapp Brannigan (Futurama)
Indee (Drawn to Life)
Doc Hudson or Finn McMissile (Cars/Cars 2)
Proto Man (Mega Man)
Louie (Pikmin)
Jumba or Cobra Bubbles (Lilo & Stitch)
Goofy (A Goofy Movie)
Tahu (Bionicle)
Chewbacca or Han Solo (Star Wars)
Doc Emmet Brown (Back to the Future)
Lucius Best or Bob Parr (The Incredibles)
Mooseblood (Bee Movie)
Verne (Over the Hedge)
Dr. Nefario (Despicable Me)
Santa Claus (Rise of the Guardians/Frosty the Snowman)
Zero (Mega Man X)
PC Mackintosh (Wallace and Gromit)
Big Macintosh (My Little Pony: Friendship is Magic)
Gaomon (Digimon)
Funky Kong or Chunky Kong (Donkey Kong Country)
Trent, Duncan, DJ or Owen (Total Drama)
Arthur (Babar)
Piccolo (Dragon Ball Z)
Rocky the Lebanese Rambo, Murray the Cop, Aussie Pub Guy or Ronnie McDoggle (from Freaky Pizza) (Fat Pizza)
Major General Sir Brian Teagler (Bedknobs and Broomsticks)
Eddy Gordo, Lars Alexandersson, Kazuya Mishima or Hwoarang (Tekken)
Terrafin, Gill Grunt, Trigger Happy, Bash, Voodood, Stump Smash, Tree Rex, or Hothead (Skylanders)
The Worker Man (Angry Grandpa/KidBehindaCamera)
Beast (Beauty and the Beast)
Flip the Grasshopper or Judge Beeswax (Maya the Bee/Movie)
Counterparts (Sonic Girl Version)
Counterparts (Animaniacs Version)
Gallery
Ad blocker interference detected!
Wikia is a free-to-use site that makes money from advertising. We have a modified experience for viewers using ad blockers

Wikia is not accessible if you've made further modifications. Remove the custom ad blocker rule(s) and the page will load as expected.