Translation : Singer from Mechelen
Kor van der Goten [1] [2] werd geboren te Mechelen op 21 april 1931 en overleed te Antwerpen op 28 januari 1983. Geboren als Cornelius van der Goten werd hij beschouwd als één van de grondleggers van de Vlaamse chanson. Andere namen waren Miel Cools, Antoon de Candt [3] en Hugo Raspoet.
Biografie
De familie Van der Goten verhuisde, kort na de geboorte, naar Antwerpen, maar na zijn humaniora, een studie aan het Antwerps conservatorium en een scholing in Gregoriaanse koorzangen en kathedraalmuziek, keerde Kor van der Goten terug naar Mechelen om aan het Sint-Jozefseminarie zijn einddiploma van wijsbegeerte te behalen.
Carrière
Het is in de lente van 1954 dat een vijftal chansons het levenslicht zagen en in 1955 toerde Kor van der Goten rond met een twintigtal zelfgeschreven liedjes.
In datzelfde jaar ontmoette hij Filip de Pillecyn, die hem voorstelde om een platenmaatschappij aan te spreken, zoals Philips Records of het Nederlandse Pocketplaat, dat een eigen beheerplatenlabel was van Jo Van Eetvelde, die voluit de kaart trok van Vlaamse chansonniers.
In 1958 startte Kor van de Goten in "De Koperen Haan" te Antwerpen zijn "Avonden met Kor van der Goten".
Bob Boon begeleidde Kor van der Goten, in 1959, naar de televisie, waardoor de carrière van Kor van der Goten een vlucht vooruit nam.
Filmlink
1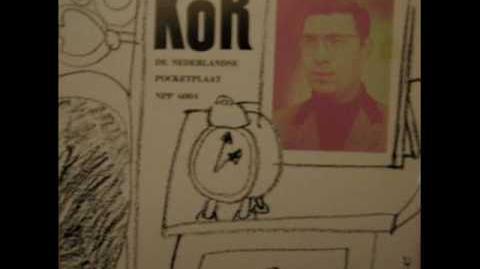 Kor van der Goten
Voetnoten
Ad blocker interference detected!
Wikia is a free-to-use site that makes money from advertising. We have a modified experience for viewers using ad blockers

Wikia is not accessible if you've made further modifications. Remove the custom ad blocker rule(s) and the page will load as expected.