Korona Wszechmogącego Tlena.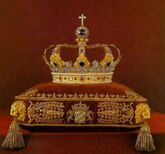 Najbardziej tajemnicza relikwia kultu Tlenowego. Korona została zesłana niedługo po ofiarowaniu Mistycznego Berła Przeszłości. Okoliczności zesłania nie są znane, wiadomo tylko, że Moj Szesz dostał ją podczas snu. Podczas oblężenia Świątyni Hatszepsut Korona trafiła w ręce egipskiego Faraona. W V wieku naszej ery Korona została skradziona i trafiła do Chińskiego cesarz Wen. Na początku XIII w. Czyngis-Chan skradł Koronę i umieścił ją w Klasztorze Gandan. W roku 1989 Korona zniknęła z klasztoru. Mnisi którzy medytowali w tym czasie, twierdzą że widzieli jasne światło w komnacie gdzie się znajdowała. Uważają też, że Wielki Tlen odebrał im Koronę ponieważ wielu z wyznawców odwróciło sie od niego.
Zobacz też:
Ad blocker interference detected!
Wikia is a free-to-use site that makes money from advertising. We have a modified experience for viewers using ad blockers

Wikia is not accessible if you've made further modifications. Remove the custom ad blocker rule(s) and the page will load as expected.