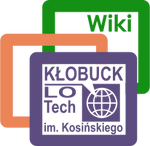 Witamy w WikiKosiński!!!
WikiKosiński to internetowa encyklopedia dostępna i przydatna dla uczniów III LO im. Kazimierza Kosińskiego w Kłobucku. Naszym celem jest stworzenie jednego, wspólnego mega e-zeszytu do polskiego (a w przyszłości może i do innych przedmiotów). Pamiętaj!!! Każdy może coś dodać lub poprawić!!!




---
---
Newsy

Już wkrótce rozpocznie się rekrutacja nowych redaktorów z klas pierwszych. W ciągu najbliższego miesiąca pojawi się (w stopniu przynajmniej podstawowym) Antyk , Średniowiecze, Renesans, Barok i Oświecenie

Nowe strony

5 września 2007
III D: jutro Powtórka z modernizmu:





Ciekawe strony

Lektury

Wiadomości o języku

Do zrobienia

NIE ZNALAZŁEŚ(AŚ) ARTYKUŁU?? dopisz go do tej listy - postaramy się go dodać (kliknij "e" na dole tej strony i wpisz poniżej!)




---

Uczniowie III LO im. Kosińskiego, pomóżcie tworzyć tę stronę - zachęcamy do tego tych z was, którzy posiadają kompletne i dokładne notatki z polskiego oraz trochę wolnego czasu. Wasz wkład dziś będzie pomocny następnym pokoleniom. (a przy okazji powtórzycie trochę materiału ;) )
Chętni proszeni są o kontakt z :



---
Ad blocker interference detected!
Wikia is a free-to-use site that makes money from advertising. We have a modified experience for viewers using ad blockers

Wikia is not accessible if you've made further modifications. Remove the custom ad blocker rule(s) and the page will load as expected.