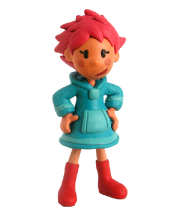 Kumatora
only appeared in Mother 3/EarthBound 2. She is the only playable female character in that game.
Counterparts (EarthBound version) (Girl version)
Counterparts (Boy version)
Percy or Thomas (Thomas & Friends)
Mario or Luigi (Mario)
Yoshi (Yoshi's Island)
Sonic The Hedgehog or Miles Tails Prower (Sonic The Hedgehog)
Lucas (EarthBound/Mother)
Pikachu or Litleo (Pokemon)
Kirby (Kirby)
Buster Bunny (Tiny Toon Adventures)
Chuckie Finster or Phil DeVille (Rugrats/All Grown Up!)
Heffer or Filburt (Rocko's Modern Life)
SpongeBob SquarePants or Patrick Star (SpongeBob SquarePants)
Homer or Bart Simpson (The Simpsons)
Mickey Mouse, Donald Duck, Goofy, or Pluto (Disney)
Phineas Flynn or Ferb Fletcher (Phineas And Ferb)
Jimmy Neutron or Carl Wheezer (Jimmy Neutron/Planet Sheen)
Gumball Watterson or Darwin (The Amazing World Of Gumball)
Counterparts (Racist Earthbound version)
Bowser (Mario)
Ice Climbers (Ice Climber)
ROB (ROB)
Ridley (Metroid)
Dark Pit (Kid Icarus)
Porky (EarthBound)
Roy (Fire Emblem)
Black Shadow (F-Zero)
King Dedede (Kirby)
Wolf O'Donnel (Star Fox)
Wario (WarioWare)
Chuckie Finster (Rugrats/All Grown Up!)
Ad blocker interference detected!
Wikia is a free-to-use site that makes money from advertising. We have a modified experience for viewers using ad blockers

Wikia is not accessible if you've made further modifications. Remove the custom ad blocker rule(s) and the page will load as expected.