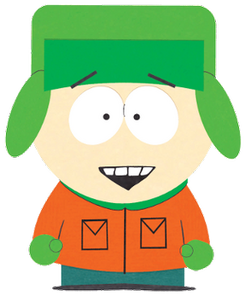 Kyle Broflovski is a fictional character on the animated television series South Park. He's one of the four main characters along with Stan Marsh, Eric Cartman, and Kenny McCormick. Kyle is very honest and nice to everyone except Cartman because he makes fun of Kyle's religion.
Parodies
Utseende
Kyle bär alltid grön mössa, orange jacka med grön krage, gröna handskar, mörkgröna byxor. Ibland visas han dock utan sin välkända, gröna mössa. Under de få tillfällen vi får se honom utan den, så får vi reda på att han har jättelockigt, rött hår.
Vänner
Kyles bästa vän är Stan Marsh. Men han umgås sällan ensam med honom, utan umgås ständigt med även Eric Cartman och Kenny Mc'Cormick. Dock kommer han inte på allt för god fot med Eric, då Eric hela tiden påminner honom om vilken "dum, jävla jude" han är. Detta leder ofta till vilda, verbala bråk mellan de båda "vännerna".
Family
Kyle lever tillsammans med sin mamma, Sheila Broflovski, hans pappa, Gerald Broflovski, och hans adopterade lillebror, Ike Broflovski. Sheila är väldigt överbeskyddande, och vill absolut inte att hennes barn varken ska svära eller annat. Hennes överbeskyddande personlighet brukar dock resultera i raka motsatsen mot vad hon från början tänkt sig. Som tex. i South Park-filmen Bigger Longer & Uncut, då hon vill rädda landets ungdomar från de hemska kanadensarnas ovårdade språk. Det hela resulterar ju dock bara i ett krig mellan de två länderna, och orsakar mer förödelse hos landets barn än det ovårdade språket nånsin kunde ha gjort. Hans pappa, Gerald Broflovski, jobbar som advokat. Han har även en yngre bror vid namn Ike, som är adopterad ifrån Kanada.
Counterparts
Duck, Percy, Thomas, Diesel, Henry, or James (Thomas the Tank Engine and Friends)
Big Bird, Grover, Elmo, or Ernie (Sesame Street)
Rotor the Walrus, Miles "Tails" Prower, Knuckles the Echidna, Sonic the Hedgehog, or Shadow the Hedgehog (Sonic the Hedgehog)
Patrick Star, SpongeBob SquarePants, Squidward Tentacles, Mr. Krabs, Fred Rechid, or Larry the Lobster (SpongeBob SquarePants)
Yoshi, Luigi, Mario, or Wario (Super Mario Bros.)
Buizel, Squirtle, Piplup, Pikachu, or Meowth (Pokemon)
Knuckle Joe, Tuff, Kirby, or Meta Knight (Kirby)
Plucky Duck, Little Beeper, Buster Bunny, Furrball, or Hamton J. Pig (Tiny Toon Adventures)
Wade, Bo, Booker, Garfield, Orson or Roy (Garfield and Friends)
Kyle Bloodworth-Thomason, Fanboy, Chum Chum, Oz, Michael Johnson, Duke, FanKyleChum or Sigmund The Sorcerer (Fanboy and Chum Chum)
Edd, Ed, Eddy, or Rolf (Ed, Edd, n Eddy)
Ziggy, Pixel, Sportacus, or Stingy (Lazytown)
Mickey Mouse, Goofy, Pluto, or Donald Duck (Mickey Mouse)
Winnie The Pooh, Piglet, Tigger, Rabbit, or Eeyore (Winnie The Pooh)
Bart Simpson, Milhouse Van Houten, Ralph Wiggum, or Moe Syzlak (The Simpsons)
Tord (Eddsworld)
Baljieet Tjinder, Phineas Flynn or Ferb Fletcher (Phineas and Ferb)
Sheen Estevez, Jimmy Neutron, Nick, or Carl Wheezer (Jimmy Neutron)
Toad, Bowser Junior, Joseph, Cody, Chef Pee Pee, Bowser, or Jeffy (SuperMarioLogan)
AJ, Chester, Timmy Turner, or Cosmo (The Fairly OddParents)
Ad blocker interference detected!
Wikia is a free-to-use site that makes money from advertising. We have a modified experience for viewers using ad blockers

Wikia is not accessible if you've made further modifications. Remove the custom ad blocker rule(s) and the page will load as expected.