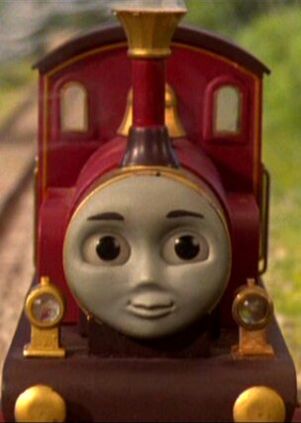 Lady
is a small purple tank engine who runs on the Magic Railroad. She has only appeared twice so far in the Thomas The Tank Engine. She first appeared in the film
Thomas & The Magic Railroad
and then later in
Calling All Engines!
however this was only a minor apperance. She has not appeared in any episode of the show until Season 21.
Allies: Thomas (boyfriend), Edward, Henry, Gordon, James, Percy, Toby, Duck, Donald, Douglas, Oliver, Emily (best friend), Molly, Rosie (cute friend), Rusty (Narrow Gauge diesel friend), Proteus (Narrow Gauge friend), Murdoch, Spencer, Dennis.
Enemies: Diesel, Arry, Bert, Diesel 10 (Worst Enemy/Kidnapper & Criminal), Splatter, Dodge, Spencer, Daisy, George, Bulgy, D261, Steam Engine, Dennis (formerly), Elizabeth, Cranky, Bill, Ben, S.C. Ruffey, Judge Judy the Diesel, D199, Diesel 20, Den, Dart, Smudger, Troublesome Trucks in general, Max, Monty, and all other evildoers of Sodor.
Questions
Well She is the Lost Engine in TATMR.
Trivia
When Lady is not on Sodor, she becomes faceless.
Theme
Lady's theme is the instrumental of the opening credits of Thomas and the Magic Railroad.
Counterparts
Sailor Moon - TUGS, fan-made
Bluenose, Isabel or Pugwash - Theodore Tugboat
Blaze the Cat, Princess Sally Acorn, Cosmo the Seedrian, Vanilla the Rabbit, Amy Rose, Cream the Rabbit, Shade the Echidna, or Tikal the Echidna - Sonic the Hedgehog
Lady the Traction Engine - Garfield and Friends, fan-made
Piper Perfect - Wacky Races Forever Pilot
Nadine Flumberghast - Arthur
Dawn - Total Drama
Elsa the Snow Queen - Frozen, Lady and Elsa are both magical
Cleopatra "Dirtbike" Funnie - Doug
Cararise's Tricicle "Loly" or Fairy Trikzie - Carasire Aurely's Avdentures
Quarky the Lab Girl - Kablam!/Action League Now!
Harmony Angel - Captain Scarlet and The Mysterons
Damy - Titielenaders, Both end with "y"
Kathy Copter - Cars
The Teeth Fairy - Claude & Cia's World/WarioWare: Portfolio Cartoon
Olivia Fuller - Family Guy
Heidi Turner - South Park
Luanne Platter - King of the Hill
Twilight Sparkle, Princess Cadence, Rarity or Fluttershy (Rainbow Dash in BrittalCroftFan Version) - My Little Pony: Friendship is Magic
Ashley - Wario
Penny Ling - Littlest Pet Shop (2012)
Jasmine Fenton - Danny Phantom
Skyler - Good Luck Charlie
Muk Muk - Fanboy and Chum Chum
Ottoline Otter - Rupert
Lil - Rugrats
Numbuh 10 - Codename: Kids Next Door
Dinah - Alice in Wonderland
Mrs. Noah - Noddy's Toyland Adventures
Rosie Grape or Esther - Veggietales
Cresselia - Pokemon
Lumpy Space Princess - Adventure Time
Amber - Scooby Doo
Venus Di Milo (they both have magic powers), Catlin (wear/are pink), or Kris Mu - Teenage Mutant Ninja Turtles
Star Strike - Skylanders
Gertie Growlerstein - Henry Hugglemonster
Mothra - Godzilla, both are kind and magical
Egyptian Woman - Mr. Peabody & Sherman (2014)
Beatrice the Butterfly - Maya the Bee
Coral - My Friend Rabbit
Mermaid - The Legendary Starfy
Voice Actors
Gallery
Ad blocker interference detected!
Wikia is a free-to-use site that makes money from advertising. We have a modified experience for viewers using ad blockers

Wikia is not accessible if you've made further modifications. Remove the custom ad blocker rule(s) and the page will load as expected.