Lady Campanula Tottington is Wallace's Second Love Interest in Wallace and Gromit In The Curse Of The Were-Rabbit.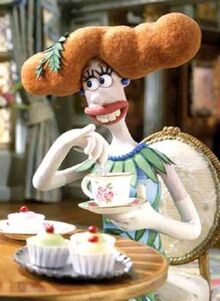 Counterparts
Emily (Thomas and Friends)
Lillie Lightship (TUGS)
Princess Peach (Super Mario Bros)
Princess Sally Acorn (Sonic The Hedgehog)
Ribbon or Lady Like (Kirby)
Hello Nurse (Animaniacs)
Kimi Finster (Rugrats)
Misty (Pokemon)
Abby (Cubix: Robots For Everyone)
Marge Simpson (The Simpsons)
Wendy Testaburger (South Park)
Isabella Garcia-Shapiro (Phineas and Ferb)
Yo (Fanboy and Chum Chum)
Numbuh 362 (Codename: Kids Next Door)
Tessie Bear (Noddy's Toyland Adventures)
Truffles (Chowder)
Ariel (The Little Mermaid)
Sapphire (Steven Universe)
Rise Kujikawa (Persona 4)
Futaba Sakura (persona 5)
Joy or Sadness (Inside Out)
Gallery
Ad blocker interference detected!
Wikia is a free-to-use site that makes money from advertising. We have a modified experience for viewers using ad blockers

Wikia is not accessible if you've made further modifications. Remove the custom ad blocker rule(s) and the page will load as expected.