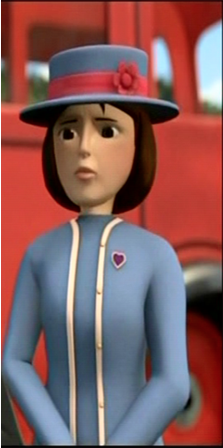 Lady Jane Hatt
, formerly
Jane Brown
, helps her husband run the railway, and is happiest when she sees new lines opened, and has had some special birthday parties (but most of the time surprises occur on her birthday). She likes the railway, but had a certain dislike of Annie and Clarabel. Later, she took a liking to them, after they got new coats of paint. Although her husband runs a railway, she likes a day out on a boat or in their car.
She first appeared in Season 1, and has had a few appearances throughout the series, her last appearance (currently) being in "Happy Birthday Sir!".
Date of Birth
Voice Actors
Theme
Lady Hatt's theme is Sir Topham Hatt's Season 1/Season 2 theme, which she shares with Sir Topham Hatt.
Counterparts

 WARNING: You may add appropriate counterparts. But, do NOT delete any.
Parodies

 WARNING: You may add parodies. But, do NOT delete any. Complete parodies list
Gallery
See Also