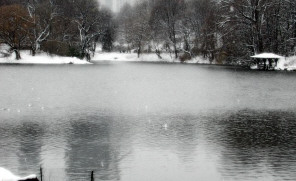 ---
Os sete mares me ensinaram respeitar a água. O lago de gelo, a admirar.
Vai lá na noite mais escura. Quando as nuvens cobre as estrelas e a lua está nova. Então, olhe para o lago e preste atenção lá no fundo, algo brilha. Há alguma coisa lá nas profundezas, e está vivo.

— Wuuf Wolfgang, ex-zelador da Noskort.
Suas águas descem as Motanhas da Escadinava através do pequeno rio Harjën, atravessa a Reserva Draconian e desagua neste grande lago que fica congelado durante todo o inverno. Porém, mesmo no verão sua água é extremamente fria, já que é gelo derretido das motanhas.
Em suas águas vive um gigantesco Kelpie (Cavalo do Lago), mas alguns estudantes dizem que este deve ser herbívoro já que nínguem nunca viu as tripas de algum aluno boaindo nas águas.
É o lago que abastece a Fonte Henricus.
Página Inicial | Estrutura

Ad blocker interference detected!
Wikia is a free-to-use site that makes money from advertising. We have a modified experience for viewers using ad blockers

Wikia is not accessible if you've made further modifications. Remove the custom ad blocker rule(s) and the page will load as expected.