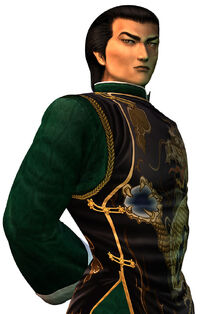 Lan Di
is an main antagonist in the Shenmue series. He kills Ryo's father and Hazuki Sensei Iwao Hazuki and takes a Dragon Mirror in the beginning. He lefted along with his two men who are the Chi Yo Men, who are in the black suit. He also blames Iwao remembering Zhao Sun Ming and he told he killed in Meng Cun.
Counterparts
Diesel 10, Big City Engine, Diesel or George (Thomas the Tank Engine and Friends)
Johnny Cuba or Zorran (TUGS)
Cabot or Oliver (Theodore Tugboat)
Shredder (Teenage Mutant Ninja Turtles)
Mr. Conductor's Evil Twin (Shining Time Station)
Dr. Doofenshmirtz (Phineas and Ferb)
Scott Tenorman (South Park)
Adolf Hitler (Angry German Kid)
M.Bison (Street Fighter)
Hacker (Cyberchase)
King Candy (Wreck it Ralph)
Death (Family Guy)
Pete (Mickey Mouse)
Ice King (Adventure Time)
Warlock Duck Collector or Ello Gov'nor (Regular Show)
Dennis (Spongebob Squarepants)
Jinpachi Mishima or Heihachi Mishima (Tekken)
The Pizza Man/Manager (Angry Grandpa)
Lumine or Sigma (Mega Man X)
Dracula (Castlevania)
Devil Kazuya or Lord Zedd (Tommy Oliver Show, Devil and Lan Di are both bad characters)
Mr. Keebler or Macusoper (Go!Animate: Comedy World)
Gallery
Ad blocker interference detected!
Wikia is a free-to-use site that makes money from advertising. We have a modified experience for viewers using ad blockers

Wikia is not accessible if you've made further modifications. Remove the custom ad blocker rule(s) and the page will load as expected.