Lanlion Human is a character from Timonyoumook or RemyRockz in cameo his mother Queen Lanolin
Apperances
Lanlion and Aloysius Go to the Movies (debut)
Remy's Best Princess Matilda and Fluttergirl (mentioned)
This Dark Day (Last Youtube Goanimate)
Roy Rooster and Fib Get In Dead Meat
Remy Rides Again While Grounded (cameo)
Remy Gets I.M. Meen Arrestd (non speaking cameo)
Trivia
She makes a cameo in Remy Rides Again While Grounded. as Remy Rides His BNSF Train and right to the mall and she said "Oh My God!"
Altough She Did Not Appears in Remy's Best of Princess Matilda and Fluttergirl. that she was mentioned by Remy, he said "Well I Think Lanlion Human Likes Food".
I Think She Makes a Non Speaking Cameo in Remy Gets I.M. Meen Arrestd. as an Auduience goes "Finally Meen You Die!".
She Likes I.M. Meen
Only this character is much than a Sheep name is Lanolin between Lanlion.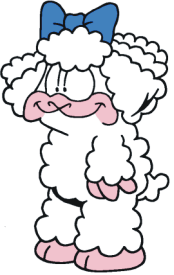 ---
Lanolin is more than a Human.