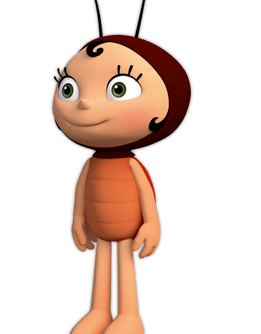 Lara the Ladybug was the recurring character of Maya the Bee Series. She is a Willy's love interest and Maya's close friend, but sometimes gets jealous of her. She was voiced by NA (TV Series) and Stavroula Mountzouris (Film).
Appearace
The Queen's Messenger
Philibert (does not speak)
Max Has a Crush (cameo)
Weather on Demand
Sulky Willy (does not speak)
Dragonfly Express
On with the Show
Did I Say That?
Films
Counterparts

 WARNING: You may add appropriate counterparts. But, do NOT delete any.
Gallery