Jimmyandfriends's movie-spoofs of "Hermie: A Common Caterpillar"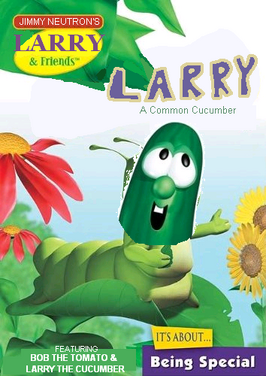 It's About Being Special
Cast:
Sheen Estevez (Jimmy Neutron) as Larry the Cucumber
Mike Wazowski (Monster Inc) as Jimmy Gourd
Jimmy Neutron as Bob the Tomato
Larry the Cucumber (VeggieTales) as Hermie
Bob the Tomato (VeggieTales) as Wormie
Madame Blueberry (VeggieTales) as Ladybug
God as himself
Jack Skellington (The Nightmare Before Christmas) as Ant
Fillmore (Cars) as Snail
Transcript
Ad blocker interference detected!
Wikia is a free-to-use site that makes money from advertising. We have a modified experience for viewers using ad blockers

Wikia is not accessible if you've made further modifications. Remove the custom ad blocker rule(s) and the page will load as expected.