Jimmyandfriends's Movies-Spoof of "Wallace & Gromit: A Close Shave"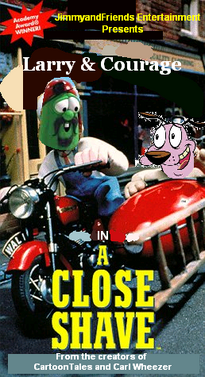 Cast
Wallace - Larry the Cucumber (VeggieTales)
Gromit - Courage (Courage the Cowardly Dog)
Wendolene - Petunia Rhurbarb (VeggieTales)
Shaun - Rudolph the Red-Nosed Reindeer
Preston - Carface Carruthers (All Dogs Go to Heaven)
Robot Preston - Robo Dog (Looney Tunes: Back in Action)
Ad blocker interference detected!
Wikia is a free-to-use site that makes money from advertising. We have a modified experience for viewers using ad blockers

Wikia is not accessible if you've made further modifications. Remove the custom ad blocker rule(s) and the page will load as expected.