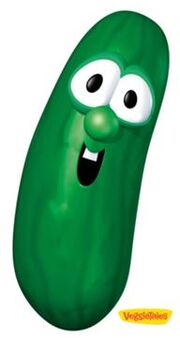 Larry the Cucumber
is another of the main protagonists from
Veggie Tales
. In some episodes, he plays the superhero, LarryBoy.
Counterparts
Top Hat, Warrior or Sunshine (TUGS/Salty's Lighthouse)
Luigi, Oogtar, Mallow or Yoshi (Super Mario Bros.)
Plucky Duck or Buster Bunny (Tiny Toon Adventures, both are green)
Baloney the Orange Dinosaur (Animaniacs; both are sing some songs very well)
Jeremy Johnson, Albert Du Bois, or Ferb Fletcher (Phineas and Ferb)
AJ, Remy Buxaplenty, Chester McBadbat, Cosmo, or Baby Poof (The Fairly OddParents)
Sheen Estevez or Carl Wheezer (Jimmy Neutron)
Kevin or Ed (Ed, Edd, n Eddy)
Sid the Sloth (Ice Age)
Ad blocker interference detected!
Wikia is a free-to-use site that makes money from advertising. We have a modified experience for viewers using ad blockers

Wikia is not accessible if you've made further modifications. Remove the custom ad blocker rule(s) and the page will load as expected.