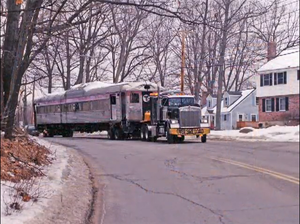 Loading an 85 foot-long, 40-ton stainless steel railroad car onto dollies and then hauling it over the road is an impressive feat to witness. If you weren't around to follow the two-day process every step of the way, you now have a special opportunity to experience #6211's voyage to Bedford in color video and stereo sound.
"Last Train to Bedford" is a 22-minute video that chronicles the car's loading onto "road dollies" at the B&M's old Billerica Shops, and then tracks the RDC's eight-mile drive over local streets to Bedford Railroad Yard. This program was produced with professional broadcast-quality equipment. You'll appreciate the tape's high production quality.
See the "riggers" at work hoisting the car with an enormous crane. Watch the eight-ton trucks in Bedford Yard lifted into the air and prepared for #6211's delivery. Follow the Budd Car as it winds its way along town roads, makes sharp turns and surprises unsuspecting motorists on its way to Bedford. Feel the satisfaction of seeing #6211 put atop the tracks in Bedford, culminating almost four years of anticipation. This is a unique video that you'll want for your permanent collection.
Ad blocker interference detected!
Wikia is a free-to-use site that makes money from advertising. We have a modified experience for viewers using ad blockers

Wikia is not accessible if you've made further modifications. Remove the custom ad blocker rule(s) and the page will load as expected.