Brock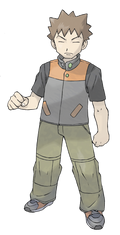 Arte de FireRed/LeafGreen
Nomes

| | |
| --- | --- |
| Nome Japonês | タケシ |
| Romaji | Takeshi |
| Nome Definitivo | Brock |
Dados
Classe
Gym Leader
Sexo
Masculino
Cidade
Pewter City
Região
Kanto
Tipo
Geração
I, II e III
Jogos
Red, Blue, Yellow, Gold, Silver, Crystal, FireRed, LeafGreen, Stadium, Stadium 2
Ginásio
Ginásio de Pewter
Insígnia
Boulderbadge
Primeiro
episódio
Showdown in Pewter City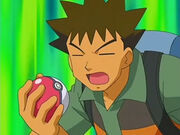 Brock (Japonês: タケシ) é o Líder do Ginásio de Pewter City. Ele entrega a Boulderbadge aos treinadores que o derrotam. É um especialista em Pokémon do tipo Pedra.
No Anime
No anime, Brock é um ótimo Criador Pokémon amigo de Ash. Ele sempre se apaixona pelas garotas que conhece, especialmente pelas Policiais Jenny e Enfermeiras Joy. É o único do grupo que sabe cozinhar.
A característica mais notável de Brock é que seus olhos estão sempre fechados. Nas únicas vezes em que os vemos abertos, Brock os abre de forma involuntária: ao ser atingido pelo Flamethrower de Charmander em The Ninja Poké-Showdown, depois de ser atingido na nuca pela cauda de Arbok em Who Gets to Keep Togepi? e quando faz caretas para Larvitar em A Crowning Achievement.
Apesar de não "devorar" os livros como Max, Brock é muito inteligente; geralmente sempre entende a tática de batalha dos treinadores e as explica aos outros. Sempre carrega mapas e geralmente sabe onde o grupo está.
Mesmo com sua personalidade séria, perde as estribeiras ao ver uma moça bonita; apesar disso, poucas pareceram se interessar por ele (como Wilhelmina e Lucy).
Depois de sair do Ginásio, deixou-o aos cuidados de sua família, mas acabou tendo que batalhar contra sua mãe Lola para impedir que o Ginásio de Pedra se tornasse Ginásio de Água.
Brock temporariamente deixa o grupo na saga das Ilhas Laranja, quando torna-se ajudante da Profª Ivy e seu lugar no grupo é preenchido por Tracey. Volta ao grupo na saga de Johto e continua até hoje.
Pokémon
Em mãos
No Ginásio de Pewter
Já teve

Nos Jogos
Nos jogos, Brock é o The Rock-Solid Pokémon Trainer.
É um dos únicos treinadores Pokémon profissionais em Pewter. Por sua força, as pessoas o adoram e respeitam. Dizem que é difícil fazê-lo rir, mas, quando ele começa, é difícil fazê-lo parar. Brock gosta de procurar fósseis no Mt. Moon e talvez por isso tenha Kabutops e Omastar na Geração II.
Pokémon
Red/Blue/Green/FireRed/LeafGreen
Yellow
Gold/Silver/Crystal
No Mangá
Brock é um bom líder de Ginásio que ajuda Misty e Erika. Também deu seu Graveler a Yellow.
Pokémon
Já teve

No TCG
Brock tem um baralho na expansão Gym Heroes do TCG.
Curiosidades
Eric Stuart confirmou numa entrevista que o sobrenome de Brock é "Harrison".
O nome japonês da

Boulderbadge

é

Graybadge

.
Ad blocker interference detected!
Wikia is a free-to-use site that makes money from advertising. We have a modified experience for viewers using ad blockers

Wikia is not accessible if you've made further modifications. Remove the custom ad blocker rule(s) and the page will load as expected.