Misty
Arte de FireRed/LeafGreen
Nomes

| | |
| --- | --- |
| Nome Japonês | カスミ |
| Romaji | Kasumi |
| Nome Definitivo | Misty |
Dados
Classe
Gym Leader
Sexo
Feminino
Cidade
Cerulean City
Região
Kanto
Tipo
Geração
I, II e III
Jogos
Red, Blue, Yellow, Gold, Silver, Crystal, FireRed, LeafGreen, Stadium, Stadium 2
Ginásio
Ginásio de Cerulean
Insígnia
Cascadebadge
Primeiro
episódio
Pokémon, I Choose You!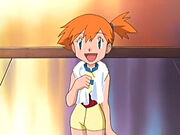 Misty (Japonês: カスミ) é a Líder do Ginásio de Cerulean City. Ela entrega a Cascadebadge aos treinadores que a derrotam. É uma especialista em Pokémon do tipo Água.
No Anime
Misty é a mais jovem de quatro irmãs que vivem em Pewter City. Deixou o Ginásio para treinar mais e se tornar mais habilidosa do que suas irmãs. Conheceu Ash quando ele a "pescou" por engano perto de Pallet Town. É uma personagem principal em Kanto, Laranja e Johto.
Misty é doce e otimista às vezes, mas geralmente é realista e se irrita facilmente. Tem mudanças de humor rápidas e suas emoções são sempre fortes.
Primeiramente seguiu viagem com Ash para obrigá-lo a dar-lhe uma nova bicicleta em reposição à que Pikachu destruiu. Depois ela até se esqueceu da bicicleta e se divertia na viagem com Ash e Brock. Ela seguiu viagem com os dois até o fim da saga Johto.
Ao retornar para Kanto, a Enfermeira Joy deu-lhe sua bicicleta totalmente reparada e ela se perguntou se ainda teria um motivo para seguir viagem agora que teve sua bicicleta de volta. Apesar de querer seguir viagem, resolveu ficar em Kanto e defender o Ginásio de Cerulean City.
Pokémon
Já teve
Nos Jogos
O título de Misty nos jogos é The Tomboyish Mermaid.
Misty está sempre tentando aprimorar suas técnicas de treinamento; como é uma nadadora nata, treina nas Seafoam Islands.
Anos depois da primeira aventura, em G/S/C, Misty tem um namorado. Ela odeia ser atrapalhada quando está num encontro.
Misty é fã de Lorelei, da Elite Four.
O sonho de Misty é viajar e conhecer o mundo, enfrentando treinadores poderosos.
Pokémon
Red/Blue/Green/Yellow/FireRed/LeafGreen
Gold/Silver/Crystal
No Mangá
Misty é uma heroína no mangá. Ela conheceu Red quando estava tentando resgatar seu Gyarados de Koga da Team Rocket. Como Red salvou seu Gyarados, ela viajou junto com ele até Cerulean.
Como Red precisava de um Pokémon com Surf, ela trocou seu Gyarados pelo Kraby dele e assim continua até hoje.
Em Johto, Suicune a escolheu como parceira.
Misty vive numa grande mansão com muitas empregadas.
Pokémon
Já teve
No TCG
Misty tem um baralho na expansão Gym Heroes do TCG.
Curiosidades
Muitos especulam que seu sobrenome é "Waterflower", mas isso não foi confirmado.
Ad blocker interference detected!
Wikia is a free-to-use site that makes money from advertising. We have a modified experience for viewers using ad blockers

Wikia is not accessible if you've made further modifications. Remove the custom ad blocker rule(s) and the page will load as expected.