Leafia
(Rifia)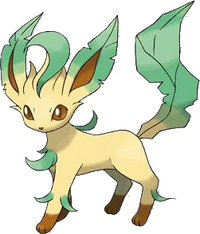 Desempenho
Lutas Oficiais
8
Vitórias
7
Derrotas
1
Aproveitamento
89%
Associado(a) à:
Platinum Clã

Leafia (ou Leafeon) é um dos participantes do Blast Battle — Torneio Pokemon. Leafia foi um dos primeiros participantes do torneio. É um dos perfis de Cristian. É membro do Platinum Clã.
História
Leafia, como um dos fakes de Cristian, tem a mesma história de Elekible.
Pré Blast Battle
O Fake Leafia surgiu pouco antes do inicio do Blast Battle, ele geralmente participava no chat dos POPs, que geralmente acontecia nas noites de segunda a sexta, que contava com Joyce Entei, Hitmontop, Aaron, Pedro Meowth e outros.
Blast Battle I
Sua campanha no torneio Blast Battle, foi exelente para o início. No mesmo Blast Battle I, onde não havia tanta competitividade, e lutadores motivados, Leafia era um forte lutador, que foi um dos primeiros a se inscrever. Na primeira fase enfrentou Taillow, que não fez uma boa batalha, e foi derrotado por Leafia e criticado pelo juíz. Leafia seguiu para a segunda fase, onde fez a batalha de sua vida contra Plusle, e venceu. Seguindo em frente nas semi-finais, Leafia veio a enfrentar Hitmontop, e acabou perdendo, deixando o torneio.
Blast Battle IV
Começou no torneio com uma passagem conturbada na luta contra Infernape, que era ninguem menos que Shiny Eipam, vencedor do Blast Battle II em outro perfil. Este ja havia derrotado Leafia antes (como Munchlax no mesmo torneio em que foi campeão). Apesar de todas as evidencias, Infernape não era o favorito, parecia desmotivado. Leafia venceu, e lutou na segunda fase contra Maryan, uma Chikorita que parecia lutar bem, apesar deisso, Lefia seguiu para terceira fase, e ganhou a única luta que teve fim no Blast Battle IV contra Charizard Black. Na semi-final venceu Hitmontop por desistencia alheia, e na Final venceu Togekiss por WO, tornando-se assim o campeão do Blast Battle IV.
Estilo de Luta
As principais influencias presentes no modo de lutar de Leafia partem de Hitmontop e Plusle, que foram seus primeiros adversários, logo no Blast Battle I. Apesar das grandes mudanças que vem ocorrendo desde o Blast Battle I, o estilo de luta de leafia pouco mudou, apenas evoluiu. Influenciou varios lutadores, como Dodrio, Maryan, Pidgeotto, inclusive Plusle e Hitmontop.
Habilidades
Rodapé
Ad blocker interference detected!
Wikia is a free-to-use site that makes money from advertising. We have a modified experience for viewers using ad blockers

Wikia is not accessible if you've made further modifications. Remove the custom ad blocker rule(s) and the page will load as expected.