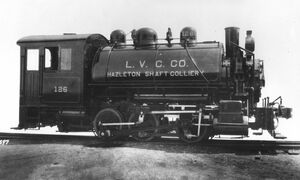 This engine was purchased from Vulcan Iron Works by the Lehigh Valley Coal Company at Hazlenton, PA.

In 1954, the engine was sold to the Heidelberg Coal Company at Avoca, PA. We have no knowledge of how it was used when it belonged to them. We assume that it was used for switching coal cars in preparation for shipment.

The engine was then sold to John Bauman, a scrap dealer, in Carbondale PA. It was stored in the D & H roundhouse at Carbondale until we purchased it in the fall of 1993.
Ad blocker interference detected!
Wikia is a free-to-use site that makes money from advertising. We have a modified experience for viewers using ad blockers

Wikia is not accessible if you've made further modifications. Remove the custom ad blocker rule(s) and the page will load as expected.