Leopold Slikk, 
also know as 
Angry German Kid
, is the main character of 
Angry German Kid
.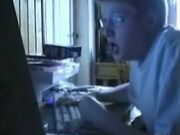 Counterparts
Thomas or James (Thomas the Tank Engine and Friends)
Ten Cents or Top Hat (TUGS)
Buster Bunny or Plucky Duck (Tiny Toon Adventures)
Orson Pig, Roy Rooster, or Garfield (Garfield and Friends)
Mario, Luigi, or Oogtar (Super Mario Bros.)
Sonic the Hedgehog, Antoine D'Coolette, or Shadow the Hedgehog (Sonic the Hedgehog)
Pikachu, Meowth, or Turtwig (Pokemon)
Kirby, Tokkori, or Meta Knight (Kirby)
Homer Simpson, Bart Simpson, Moe Syzlak, or Nelson Muntz (The Simpsons)
Stan Marsh or Eric Cartman (South Park)
Mickey Mouse or Donald Duck (from Mickey Mouse)
Winnie the Pooh or Rabbit (Winnie the Pooh)
Timmy Turner, Cosmo, AJ, or Remy Buxaplenty (The Fairly OddParents)
The Cat in the Hat (Dr. Seuss/The Wubbulous World of Dr. Seuss)
Jimmy Neutron, Sheen Estevez, Nick Dean, or Eustace Strych (Jimmy Neutron)
Gumball Watterson or Banana Joe (The Amazing World of Gumball)
Shrek (Shrek)
Phineas Flynn, Jeremy Johnson, or Albert Du Bois (Phineas and Ferb)
Eddy, Kevin, or Edd (Ed, Edd, n Eddy)
Lincoln Loud or Chandler (The Loud House)
Spongebob Squarepants or Squidward Tentacles (Spongebob Squarepants)
Kermit the Frog (Muppets)
Adult Simba or Zazu (The Lion King)
Marlin, Nemo, or Nigel (Finding Nemo)
Woody or Mr. Potato Head (Toy Story)
Alex the Lion (Madagascar)
Bob the Tomato or Larry the Cucumber (Veggietales)
Fix-It Felix Jr. or Gene (Wreck-It Ralph)
Mega Man (Mega Man)
Cory Koller (Zachary Swain)
Big Bird, Ernie, Count Von Count, Bert, Grover, or Telly Monster (Sesame Street)
Barney or BJ (Barney and Friends)
Optimus Prime (Transformers)
Wilson or Emery (Chuggington)
Ad blocker interference detected!
Wikia is a free-to-use site that makes money from advertising. We have a modified experience for viewers using ad blockers

Wikia is not accessible if you've made further modifications. Remove the custom ad blocker rule(s) and the page will load as expected.