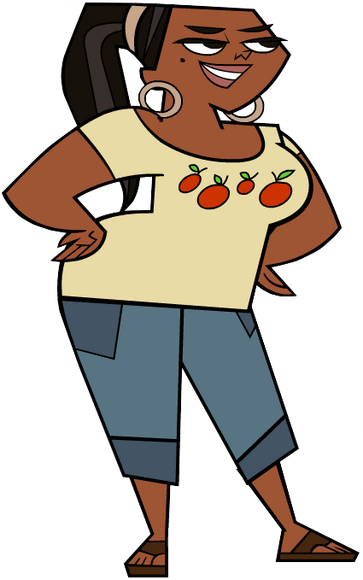 LeShawna is a Total Drama Contestant and Harold's Love Interest in Total Drama Island, Total Drama Action and Total Drama World Tour.
Counterparts

 WARNING: You may add appropriate counterparts. But, do NOT delete any.
Mavis (Thomas The Tank Engine and Friends)
Sally Seaplane (TUGS)
Dulcy The Dragon (Sonic The Hedgehog)
Princess Kida (Atlantis: The Lost Empire)
Princess Tiana (The Princess and The Frog)
Spitfire (Robot and Monster)
Lupe (Fanboy and Chum Chum)
Iridessa (Tinkerbell)
Foxxy Cleopatra (Austin Powers In Goldmember)
Applejack or Sapphire Shores (My Little Pony: Friendship Is Magic)
Susie Carmichael (Rugrats)
Mee Mee (Dexter's Laboratory)
Ashley Spinelli (Recess)
MacArthur (The Ridonculous Race)
Foxxy Love (Drawn Together)
Numbuh 5 (Codename: Kids Next Door)
Dinah Doll (Noddy's Toyland Adventures)
Bella Lasagne (Fireman Sam)
Mrs. Pottage (Postman Pat)
Stella (Over The Hedge)
Petunia Rhubarb (VeggieTales)
Ad blocker interference detected!
Wikia is a free-to-use site that makes money from advertising. We have a modified experience for viewers using ad blockers

Wikia is not accessible if you've made further modifications. Remove the custom ad blocker rule(s) and the page will load as expected.