Lexia Inverse
Lexia Inverse
Herkunft
Erde
Rasse
Exeon/Drachen Kirito
Geburtsdatum
?
Alter
?
Familie
Vater: Devexos


Mutter: Nami

Haarfarbe
rot
Augenfarbe
braun
Größe
164cm
Gewicht
40kg
Waffe
Grünes Schwert
Techniken
Windmagie, Firebolt, Feuerregeneration
Geschichte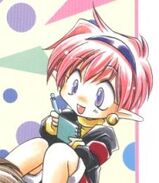 Ihre Mutter war ein
Drachen Kirit(o)
, da
Devexos aber
selbst kaum etwas über sie wusste, konnte er Lexia auch nichts erzählen.
Sie wuchs nur mit ihrem Vater auf, weil angenommen wurde, dass ihre Mutter bei ihrer Geburt starb, was tatsächlich geschah weiß niemand.
Schon als Kind hatte sie seltsame Vorlieben, die pyromanische Ader der Exeon eingeschlossen, welche sich bei ihr extrem äußerten.
Sie ist die einzige Tochter von Devexos. Nennt Macintex' und Aikos gemeinsamen Sohn, Lexos, trotzdem "Bruder", weil sie gemeinsam mit ihm auf Xetron aufwuchs.
Nach langen Jahren des Wartens erlaubte ihr Devexos endlich die Erde zu besuchen.
Charakter
Eigentlich könnte sie eine liebenswürdige junge Frau sein .... Aber ihr Temperament ist besonders ausgeprägt, deswegen wird sie ziemlich schnell sauer. Eine weitere Besonderheit ist ihre Vorliebe Dinge in die Luft zu sprengen, die sie erst kürzlich entwickelte. Natürlich ist die für Exeon typische, pyromanische Veranlagung nicht zu vergessen.
Manchmal kann sie ziemlich verschlossen und geistesabwesend wirken, aber solche Phasen dauern nie lange.
Sie ist außerdem extrem neugierig und hasst es, wenn jemand Geheimnisse vor ihr hat.
Stärken
Hat einen starken Willen und will alles, das sie sich vorgenommen hat, um jeden Preis erreichen; da sie nur zur Hälfte Exeon ist, macht ihr Kälte und Wasser nicht soviel aus wie einem reinrassigen ihrer Art.
Schwächen
Stur; agiert oft unüberlegt, begibt sich deshalb oft in Gefahr; die exeontypische Abneigung gegen Kälte in abgeschwächter Form;
Ad blocker interference detected!
Wikia is a free-to-use site that makes money from advertising. We have a modified experience for viewers using ad blockers

Wikia is not accessible if you've made further modifications. Remove the custom ad blocker rule(s) and the page will load as expected.