Ad blocker interference detected!
Wikia is a free-to-use site that makes money from advertising. We have a modified experience for viewers using ad blockers

Wikia is not accessible if you've made further modifications. Remove the custom ad blocker rule(s) and the page will load as expected.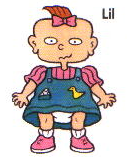 Lil DeVille
is a character from
Rugrats
. She is Phil DeVille's twin sister. Like her twin brother, she is voiced by
Kath Soucie
.
Bio
Age: 1
Hair Color: Brown
Clothing: Pink Undershirt, Green Overall Dress With A Yellow Duck, Pink Spotted Hankerchief, White Diaper, Pink Ribbon, White Socks, Pink Shoes
Friends: Tommy Pickles, Chuckie Finster, Phil, Dil Pickles, Kimi Wantanabe-Finster, Susie Carmichael
Enemies: Angelica Pickles, Timmy McNulty, Teddy McNulty, Terry McNulty, Ty McNulty, Todd McNulty
Counterparts
Charlie Duncan (Good Luck Charlie)
Faline (Bambi)
Pingi (Pingu)
Hilda (Dastardly and Muttley)
Nancy Pancy (Fanboy and Chum Chum)
Numbuh 362 (Codename: Kids Next Door)
Sally Skittle (Noddy's Toyland Adventures)
Lady Tottington (Wallace and Gromit) 
Adurey (Regular Show)
Frances (Rupert)
Tracy (Jay Jay the Jet Plane)
Wonder Woman (The LEGO Movie)
Dotty Dog (The Get Along Gang)
Gallery