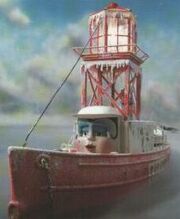 Lillie Lightship
is a character from the TV show, 
TUGS
. It is said in the series that she and
Hercules
have a special relationship.
Trivia
Her model was bought by the Star Tugs Trust.
Info
Color: Red
Allies: Hercules (boyfriend), Captain Star, Ten Cents, Big Mac, OJ, Top Hat, Warrior, Sunshine, Grampus, Zorran, Zebedee, Zak, Zug, Zip and Mighty Moe
Enemies: Johnny Cuba, Nantucket, Burke and Blair, Bluenose and Captain Zero
Girl Counterparts
Boy Counterparts
Parodies
Ad blocker interference detected!
Wikia is a free-to-use site that makes money from advertising. We have a modified experience for viewers using ad blockers

Wikia is not accessible if you've made further modifications. Remove the custom ad blocker rule(s) and the page will load as expected.