Lily Legion
Commanding Officer
Count #
Acting Commander
N/A
Base of Operations
Circe
Affiliation
House Mitsu

The Lily Legion is the Household Guard of House Mitsu.
Training and Equipment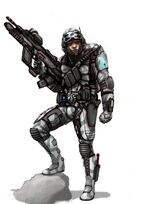 Every soldier in the Lily Legion belongs to House Mitsu, and has signed a 20-year contract with the Lily Legion. After signing up, the recruits go through extensive military training coupled with political indoctrination, making them excellent and fanatical soldiers. They wear a medium combat armour, and are armed with medium-range T-12 rifles.