Coloque as informações na seguinte ordem, sempre que as tiver. Caso não tenha uma das informações, coloque entre parêntesis.
Cabeçalho: nome do navio, o porto de origem e data de saída, porto de chegada e data de chegada. Fonte da informação: (de onde obteve a informação) Seu nome e email: Lista de Passageiros: sobrenome, nome, idade, cidade/região/país de origem,
Se tiver foto do navio, pode acrescentá-la.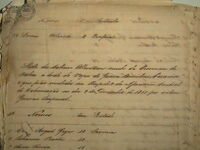 Ad blocker interference detected!
Wikia is a free-to-use site that makes money from advertising. We have a modified experience for viewers using ad blockers

Wikia is not accessible if you've made further modifications. Remove the custom ad blocker rule(s) and the page will load as expected.