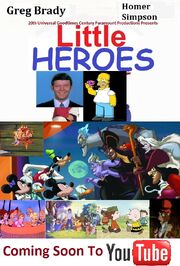 20th Universal Goodtimes Century Paramount Productions Movies-spoof of 1994 Warner Bros Family Entertainment film "Little Giants"
Cast
Rick Moranis as Danny O'Shea
Homer Simpson as Kevin O'Shea
Brittany Seville as Becky "Icebox" O'Shea
Carol Brady as Patty Floyd
Alvin Seville as Junior Floyd
Professor Ratigan as Mike Hammersmith
Pete as Spike Hammersmith
Frank Carl Fisher Jr. as Patterson
Molly (1999) as Karen O'Shea
Smurfette as Debbie O'Shea
Michelle Tanner as Priscilla O'Shea
Alf as Jake Berman
Papa Smurf as Nubie
Joey Simmirin as Sean Murphy
Alfalfa as Johnny "Viper" Vennaro
Mickey Mouse as Rashid "Hot Hands" Hanon
Boots The Monkey as Marcus "The Toe"
Ad blocker interference detected!
Wikia is a free-to-use site that makes money from advertising. We have a modified experience for viewers using ad blockers

Wikia is not accessible if you've made further modifications. Remove the custom ad blocker rule(s) and the page will load as expected.