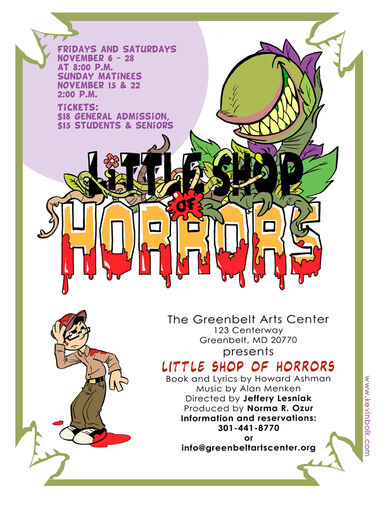 Little Shop of Horrors
is a Comedy Horror Rock Musical with Music by
Alan Menken
and Book and Lyrics by
Howard Ashman
, was produced by
The Pennsylvania Players
in the Fall 1996 season.
Synopsis
Act I
A voice "not unlike God's" recalls a time when the human race "suddenly encountered a deadly threat to its very existence". A trio of 1960s Street urchins named Crystal, Ronette and Chiffon set the scene ("Little Shop of Horrors") and comment on the action throughout the Show.
Act II
("Suppertime II"). Mushnik arrives and attacks the plant while Seymour saves Audrey just in time. Mushnik explained to her what happened. When Seymour mentions that he though she liked him because of the plant and his fame, Audrey reveals that she liked him the day she started working at Mushnik's. Mushnik himself forgives Seymour and told them that they'll have a more wonderful life together ("Suddenly, Seymour (reprise)"). They fall asleep as Audrey II grows small red flower buds.
The next day, as they share this moment together about planning a nice home, they are interrupted by Patrick Martin, a salesman from World Botanical Enterprises. He offers Seymour and Mushnik a contract to breed Audrey II and make a fortune by selling the plant to families around the world. Seymour and Mushnik, shocked, realizes that Audrey II planned for this all along and that it's planning for world domination. Seymour confronts and fights the gigantic plant, which by now has little offspring red flower buds. Audrey II bursts out of its pot and reveals to Seymour that it is an Alien from Outer Space ("Mean Green Creature from Outer Space"). After a brawl with Seymour that destroys the entire shop, Audrey II manages to latch onto the store's support beams and completely yank the shop to pieces, seemingly killing Seymour in the process. However, Seymour's arm bursts through the rubble and he grabs a broken exposed electrical wire, using it to electrocute the massive plant and its buds, blowing them all up.
Seymour, having miraculously survived the collapse and explosion, safely reunites with Audrey and Mushnik. They wed and move to the suburbs that Audrey dreamed of ("Somewhere That's Green (Reprise)"). However, Audrey II's face appears on the stage and tells the Heros that he will be back.
Musical Numbers
Act 1
Ad blocker interference detected!
Wikia is a free-to-use site that makes money from advertising. We have a modified experience for viewers using ad blockers

Wikia is not accessible if you've made further modifications. Remove the custom ad blocker rule(s) and the page will load as expected.