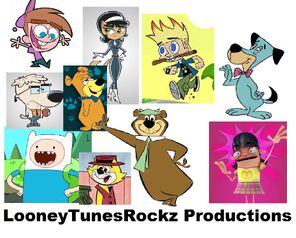 LooneyTunesRockz
LIST OF MOVIES/TV SHOWS SO FAR:
101 Dalmatians
A Bug's Life
Rugrats
Adventure Time
Aladdin
Aladdin 2: The Return of Jafar
Aladdin 3: Aladdin and the King of Thieves
Aliens in the Attic
An American Tail 1 & 2
Atom Ant
Beauty and the Beast
Ben 10
Ben 10: Alien Force
Ben 10: Ultimate Alien
Bump in the Night
Cars
Cars 2
Cloudy with a Chance of Meatballs
Dinosaur (2000)
Disney Shorts
Dumbo
Fanboy and Chum Chum
Hercules
Hokey Wolf
Huckleberry Hound
Ice Age 1, 2, & 3
Johnny Test
Kung Fu Panda
Kung Fu Panda 2
Lilo & Stitch
Little Einsteins
Looney Tunes
Madagascar
Madagascar: Escape 2 Africa
Mulan
Oh Yeah Cartoons
Planet 51
Phineas and Ferb
Quick Draw McGraw
Random Cartoons
Space Chimps
Tarzan
Tarzan 2
The Amazing World of Gumball
The Ant and the Aardvark
The Aristocats
The Avengers: Earth's Mightiest Heroes
The Black Caludron
The Fox and the Hound 1 & 2
The Jungle Book 1 & 2
The Lion King 1, 2, and 3
The Little Mermaid
The Looney Tunes Show
The Many Adventures of Winnie the Pooh
The Princess and the Frog
The Sword in the Stone
Thomas and Friends
Top Cat
Toy Story 1, 2, & 3
T.U.F.F. Puppy
Up
WALL-E
Wally Gator
Winnie the Pooh
Yakky Doodle
Yogi Bear
Yogi's Ark Lark
Yogi's First Christmas
Yogi Bear and the Magical Spruce Goose
Yogi the Easter Bear
Yogi's Gang
Yogi's Space Race
Yogi's Treasure Hunt
Yo Yogi

A LIST OF PARODIES:

MY FAVORITES CHARACTER:
Johnny Test
Dudley Puppy, Keswick and Kitty Katswell (T.U.F.F. Puppy)
Gumball (The Amazing World of Gumball)
Yogi Bear and Boo Boo Bear
Ant-Man and Wasp (The Avengers: Earth's Mightiest Heroes)
Huckleberry Hound
Snagglepuss
Top Cat
Quick Draw McGraw
Wally Gator
Finn (Adventure Time)
Yo (Fanboy & Chum Chum)
Floral Rugg
Ad blocker interference detected!
Wikia is a free-to-use site that makes money from advertising. We have a modified experience for viewers using ad blockers

Wikia is not accessible if you've made further modifications. Remove the custom ad blocker rule(s) and the page will load as expected.