Lucifer/Squall Leonhart
Lucifer/Squall Leonhart
Herkunft
Erde
Rasse
Nod-jin/Dämon
Geburtsdatum
21. Dezember
Alter
?
Familie
Vater: Hayate

Haarfarbe
Schwarz
Augenfarbe
Grün-Braun
Größe
170cm
Gewicht
60kg
Waffe
Nanatsusaya
Techniken
Super Nod-jin
Geschichte
Luzifer der Alte
Lucifer war einst ein grosser
Engel
im
Himmel
, doch verstand er nicht Gottes Haltung gegenüber den
Menschen
und kritisierte sie, worauf er aus dem Himmel gestürtzt wurde.
Nachdem er gefallen war, machte er sich mit einigen anderen Gefallenen daran die Unterwelt zu erobern, was ihm auch gelang, er wurde jedoch von einem Dämon mit dem Namen Fortinbraz besiegt und verdammt in einem Menschen wiedergeboren zu werden. Fortinbraz rechnete allerdings nicht damit, dass Lucifers Seele wiederauferstehen würde, was sie aber tat. Dies war Fortinbraz Untergang durch Lucifers Hand. Der sich fortan Luzifer nannte.
Der Krieg gegen Sephiroth
Lucifer führte später noch einen weiteren Krieg gegen Sephiroth und Samael, welchen er für sich Entscheiden konnte, da Samael seinen Partner verriet.
Luzifers Untergang
Viele Jahre später wurde jedoch genau dieser Lucifer erneut getötet und zwar von der eigenen Tochter und seinem Enkelsohn aus der Zukunft, wie auch von Hayate und einem Engel Namens Rinoel.
Lucifers Wiedergeburt
Lucifer erwachte aber wieder, in seinem eigenen Enkelsohn aus dieser Zeit.

Er ist somit der Sohn von Hayate und Storm II.
Fusion mit Cloud Flac
Durch eine unglückliche Fusion wurde er mit
Claude Flac
zu einer Person. Sein Bruder
Ariel
konnte jedoch die Körper der beiden wieder trennen, was aber dazu führte, dass Lucifer jetzt als Claudes
Schutzgeist
lebt.... jedoch weis Claude davon nichts.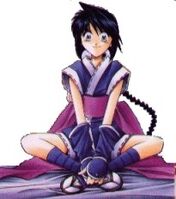 Charakter und Absichten
Lucifer versucht ein grosses Imperium zu errichten und soviele Welten wie möglich der Hölle einzuverleiben. Er hat das Ziel ein starkes und vor allen Dingen sicheres Imperium zu schaffen, das vor allen Dingen in Frieden lebt.
Bei der Durchführung seiner Pläne geht er allerdings sehr grausam und unbamherzig gegen jeden vor, der ihm im Weg steht.
Er ist ansonsten ein eher ruhiger und klar denkender Typ.
Kampfstil und Waffen
Waffen: Nanatsusaya, Kodachi
Kampfstil: Ninjitsu, Kenpo
Ad blocker interference detected!
Wikia is a free-to-use site that makes money from advertising. We have a modified experience for viewers using ad blockers

Wikia is not accessible if you've made further modifications. Remove the custom ad blocker rule(s) and the page will load as expected.