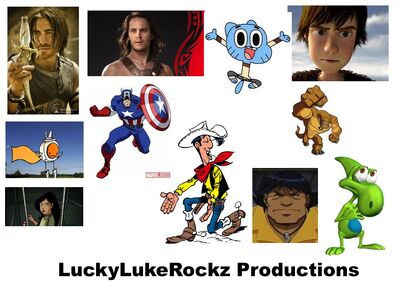 LuckyLukeRockz
LIST OF TV SHOWS/MOVIES/VIDEOGAMES SO FAR:
6Teen
A Bug's Life
Adventure Time
Alienators: Evolution Continues
Aliens in the Attic
Angry Birds
Angry Birds Toons
Archie's Weird Mysteries
Atom Ant
Batman: The Brave and the Bold
Bee Movie
Ben 10
Ben 10 Alien Force
Ben 10 Ultimate Alien
Ben and Holly's Little Kingdom
Big Wolf on Campus
Bin Weevils
Brother Bear
Brother Bear 2
Bump in The Night
Charlie and the Chocolate Factory
Cars
Cars 2
Chicken Little
Chicken Run
Chowder
Cinderella
Class of 3000
Codename: Kids Next Door
Corpse Bride
Courage the Cowardly Dog
Cow and Chicken
Danger Mouse
Defenders of the Earth
Despicable Me
Dexter's Laboratory
Dinosaur
Dinosaur King
Disney Shorts
Dora the Explorer
Fairly Oddparents
Fanboy and Chum Chum
Finding Nemo
Flash Gordon
Flushed Away
Foster's Home for Imaginary Friends
Generator Rex
Gogs
How to Train Your Dragon
Ice Age
Ice Age 2
Ice Age 3
John Carter (2012)
Johnny Test
Kung Fu Panda
Looney Tunes
Lucky Luke TV Series
Martin Mystery
Megamind
Minions
Monsters Vs Aliens
Moshi Monsters
Moshi Monsters The Movie
Ozzy and Drix
Packages From Planet X
Peppa Pig
Pet Alien
Planet 51
Prince of Persia: The Sands of Time (2010)
Popeye
Pokemon
Rock-A-Doodle
Rio (2011)
Samurai Jack
Skunk Fu
Space Chimps
Space Chimps 2
Teen Titans
Thomas & Friends
Tiny Toon Adventures
T.U.F.F. Puppy
The Amazing World of Gumball
The Avengers: Earth's Mightiest Heroes
The Book of Life (2014)
The Croods
The Secret Saturdays
The Super Hero Squad Show
The Sword in the Stone
WALL-E
Wolverine and the X-Men
X-Men
X-Men Evolution
Yam Roll
Yin, Yang, Yo
Yogi Bear
YooHoo and Friends
A LIST OF PARODIES

MY FAVORITES CHARACTER:
Lucky Luke
Yam Roll
Dinko (Pet Alien)
Hiccup (How to Train Your Dragon)
Prince Dastan
Fiskerton (The Secret Saturdays)
John Carter
Tommy Dawkins (Big Wolf on Campus)
Ad blocker interference detected!
Wikia is a free-to-use site that makes money from advertising. We have a modified experience for viewers using ad blockers

Wikia is not accessible if you've made further modifications. Remove the custom ad blocker rule(s) and the page will load as expected.