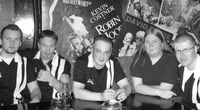 Historia
Yhtye sai alkunsa kitaristi Teemu Ojapalon ja huuliharpisti Mikko Laapion jammailusessioista vuosien 2001/2002 vaiheilla. Hiukan myöhemmin jamituokioihin pyydettiin toinen kitaristi, ex Francine Mika Jokinen. Mukaan kutsuttiin Goofy & The Gamblers ja Ronnie & His Twanging Little Fellow rumpali Kalle Kotiranta. Loppukesästä 2004 Lucky 5 oli syntynyt. Kokoonpano kehitteli yhteistyötä eri basistien kanssa, kunnes loppuvuonna 2005 basistin paikan täytti Marjo Leppä.
Kokoonpano
Aiheesta muualla
Ad blocker interference detected!
Wikia is a free-to-use site that makes money from advertising. We have a modified experience for viewers using ad blockers

Wikia is not accessible if you've made further modifications. Remove the custom ad blocker rule(s) and the page will load as expected.