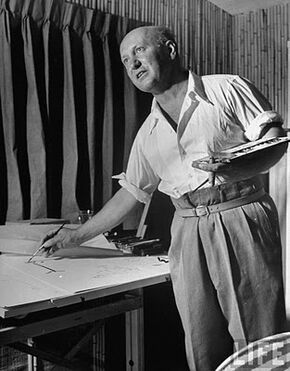 Ludwig Bemelmans
(Born April 27, 1898) is an Austrian-American Author, Playwright, Gourmet, Writer and Illustrator of Children's Books, Storyboard Artist, Caricaturist and Cartoonist.
Life
Bemelmans was born to the Belgian Painter, Lambert Bemelmans and the German Frances Fischer in Meran, Austria-Hungary (now Merano, Italy).
He spent the next several years working at Hotels and Restaurants in the US.
Marriage and Family
Bemelmans met his future Wife, Madeleine "Mimi" Freund, as a Model at Metzl's Studio.
Writing Career
In the early 1930s, Bemelmans met May Massee, the Children's Book Editor at Viking Press, who became a sort of partner. Bemelmans also wrote a number of Travel, Humorous and Slapstick Books and Works, as well as Movie Scripts. His first Script was a Feature Film for The Three Stooges called "Fat Fry".
Caricatures
In 1926, Ludwig met Al Hirschfeld at Daly's 63rd Street Theatre (now the Gershwin Theater). He showed Ludwig his Caricatures of Hollywood Stars including Laurel and Hardy, Harry Langdon, Buster Keaton, Harold Lloyd and Charlie Chaplin he drew. Ludwig was pleased with Al's Drawings and told him that he'll paint a Mural around the Auditorium with the permission of Archtect Thomas W. Lamb.
Since then, he's drawn countless Celebrities and Broadway Stars for the New York Post.
Films, Posters and Cover Art
Just like Jack Davis, Al Hirschfeld and Herge, Bemelmans also contributed to MGM, Disney, Universal and Paramount Productions.
Bemelmans produced many Artwork and Posters for the Award-winning 1963 Slapstick Comedy Chase Film It's a Mad, Mad, Mad, Mad World (which he then made an Illustrated Book based on the Film).
Writing Credits
Since 1934, he has made various Books, Plays, Films and Musicals.
Books
Plays
Musical Theatre
Short Films
Films
Ad blocker interference detected!
Wikia is a free-to-use site that makes money from advertising. We have a modified experience for viewers using ad blockers

Wikia is not accessible if you've made further modifications. Remove the custom ad blocker rule(s) and the page will load as expected.