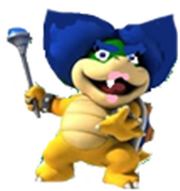 Ludwig "Kooky" Von Koopa
is one of the Koopalings from
Super Mario Bros.
He is the eldest and smartest of Bowser's children. Ludwiga is Ludwig's twin sister and she is elder female koopaling
Counterparts (Mario Version) (Do not delete, but you can add)
Counterparts (Animaniacs Version)
Ad blocker interference detected!
Wikia is a free-to-use site that makes money from advertising. We have a modified experience for viewers using ad blockers

Wikia is not accessible if you've made further modifications. Remove the custom ad blocker rule(s) and the page will load as expected.