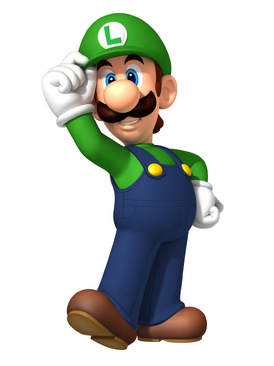 Luigi
is a character from the
Super Mario Bros.
franchise. He is
Mario's
younger brother. Luigi is also seen in
Luigi and the Water of Doom: The Great Ocean Adventure
.
Counterparts (Do not edit or delete, but you can add)
Truro or Foduck (Theodore Tugboat)
Hodge, Emery, or Zack (Chuggington)
Uncle Chuck, Miles "Tails" Prower, Shadow the Hedgehog, Knuckles the Echidna, Antoine D'Coolette, or Sonic the Hedgehog (Sonic the Hedgehog)
Skokupanman (Anpanman)
Mr. Krabs, Squidward Tentacles, Patrick Star, Stanley S. SquarePants, SpongeBob SquarePants or Squilliam Fancyson (SpongeBob SquarePants)
Meta Knight, Knuckle Joe, Tuff, Kirby or Keeby (Kirby)
Blooregard "Bloo" Q. Kazoo, Wilt, or Eduardo (Foster's Home for Imaginary Friends)
Ferb Fletcher, Major Monogram, Jeremy Johnson, Albert Du Bois, Phineas Flynn, Baljieet Tjinder, or Carl Karl (Phineas and Ferb)
Emmett Heglin (Good Luck Charlie)
Zazu, Mufasa, Pumbaa, or Timon (The Lion King)
Curly Howard (The Three Stooges)
Buzz McCallister (Home Alone 4)
Flower (Bambi)
Goofy, Donald Duck, or Mickey Mouse (Mickey Mouse)
General Hologram or Sonic the Hedgehog (Wreck-it Ralph)
Geoff, Trent, Duncan, Cody, Noah or Owen (Total Drama) 
Benson or Rigby (Regular Show)
Kevin, Ed, Edd, or Johnny 2x4 (Ed, Edd 'n' Eddy)
Easter Bunny (Rise of the Guardians (2012))
Al (Failure to Launch (2006))
Marco (Animorphs)
Hank Hill (King of the Hill)
Caleb Prior (Divergent (2014))
Sheen Estevez, Eustace Strych, Nick Dean, or Carl Wheezer (Jimmy Neutron)
Roy Mustang (Fullmetal Alchemist)
Paul the Ant Colonel (Maya the Bee/Movie)
Counterparts (Girl Version)
Mavis (Thomas the Tank Engine and Friends)
Princess Daisy (Super Mario Bros.)
Amy Rose or Rouge the Bat (Sonic the Hedgehog)
Sirica or Tiff (Kirby)
Fluttershy (My Little Pony: Friendship is Magic)
Aipom, Glameow or Buneary (Pokemon)
Candace Flynn (Phineas and Ferb)
Pearl Krabs (SpongeBob SquarePants)
Blaineley (Total Drama)
Counterparts (Animaniacs Version)
Donald (Thomas the Tank Engine & Friends)
Counterparts (Racist Mario verison)
Thomas or Percy (Thomas the Tank Engine and Friends)
Parodies
Gallery
Ad blocker interference detected!
Wikia is a free-to-use site that makes money from advertising. We have a modified experience for viewers using ad blockers

Wikia is not accessible if you've made further modifications. Remove the custom ad blocker rule(s) and the page will load as expected.