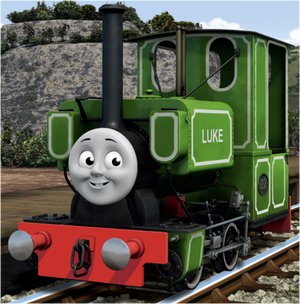 Luke
is a little Irish narrow gauge tank engine and the second main protagonist of
Blue Mountain Mystery
.
Bio
Luke is a small engine, even for the Narrow Gauge Railway. When Luke arrived on Sodor, he hid out of shame believing that he caused an engine to fall into the sea. With Thomas' help, Luke learned the truth and was able to stop hiding.
Persona
Luke is a kind and cheerful engine with a big heart of gold, although he often takes things to heart, and believes he gets punished for no reason. He is often shy and timid, but has an unquenchable enthusiasm for both his work and his fellow engines.
Basis
Luke is based on the Kerr Stuart 0-4-0ST Wren Class 4256 built in 1922 with an enclosed cab with doors added and added buffers. (Some of the early Wrens had buffers, which is why Luke has them.)
Livery
Luke is painted green with white lining. His name is painted in white on his tanks. He carries the number 22 on his sides.
Allies: Thomas (good friend), Henry, Rosie, Murdoch, Belle, BoCo, Skarloey, Rhencus, Sir Handel, Peter Sam, Rusty, Duncan, Victor, Millie (girlfriend), Spencer,Paxton, Owen, Merrck, Winston, Kevin, Stephen,
Enemies: Thomas (briefly in Blue Mountain Mystery), Diesel, Diesel 10, Smudger
Appearances
Major Appearances
Season 17 
Luke's New Friend
The Switch
Specials
Season 16
The Christmas Tree Express
Voice Actor
Merchandise
Wooden Railway
Trackmaster
Take-n-Play
Theme
Luke's theme is the Blue Mountain Quarry song or Roll Along Song "Blue Mountain Mystery", which he shares with Winston, Merrick, and Owen.
Counterparts (Thomas Version)
Counterparts (Skarloey Version)
Oliver (Thomas the Tank Engine and Friends)
Boomer or Sea Rogue (TUGS)
Boomer (Salty's Lighthouse)
Hailburton, Nautlius or Fundy (Theodore Tugboat)
Roy (Wreck-It Ralph)
Ramone or The King (Cars 1 & 2)
Count Von Count (Sesame Street)
Rerun (Peanuts)
Counterparts (Female Version)
Millie (Thomas the Tank Engine and Friends)
Gallery
Ad blocker interference detected!
Wikia is a free-to-use site that makes money from advertising. We have a modified experience for viewers using ad blockers

Wikia is not accessible if you've made further modifications. Remove the custom ad blocker rule(s) and the page will load as expected.