Welcome to the Lunara mini-wiki

A free information center that you can edit

Create new pages, and share relevant knowledge with a healthy dose of satire. To start editing, click the edit button at the top of any page or section, or create a new article by typing its title in the box at the bottom of this screen.

Help us expand our general knowledge database!

To write a new article, enter the page title in the box below. Be sure to include the tag Category:Lunara so that it is linked to this project!

Help us expand our people and politics database!
Welcome to the Lunara mini wiki at Scratchpad!
You can use the box below to create new pages for this mini-wiki.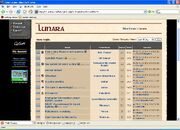 For help editing and using wikias, please try this link and this one.
Lunara is a vast world, that is composed of a large, diverse population. The main power of this land has been a guild called the "Liches of Archinare". Throughout it's history countless wars have been fought and lives spent in the name of changing or preserving this status. Many guilds were also created to keep peace in Lunara. Lunara is a diverse server, with large populations of Spanish, Polish, Brazilian, and Swedish players.
Guilds
Main article: Lunaran guilds
Guilds on Lunara have largely governed the server's political climate, as opposed to power structures founded on alliances as is the case on Antica. Some guilds exist solely for community and friendship, others exist to promote powergaming, some offer services to the community, and still others only seek political power. However, most guilds perform a combination of those. Guilds often recruit only members of the same nationality, speakers of the same language, or exclude low levels.
Demographics
The population of Lunara is mainly made up of Brazilian, Swedish and Polish players. However, some Americans, Canadians, English and Netherlands have been spotted. This wide-ranging racial build-up is one of many things that Lunsoc embraces as it strives to make Lunara a more tolerant society.
Politics
It is completely untrue that any form of politics exists on Lunara. This myth was entirely fabricated by Subtlechaos so that he could feel more important.
Ad blocker interference detected!
Wikia is a free-to-use site that makes money from advertising. We have a modified experience for viewers using ad blockers

Wikia is not accessible if you've made further modifications. Remove the custom ad blocker rule(s) and the page will load as expected.