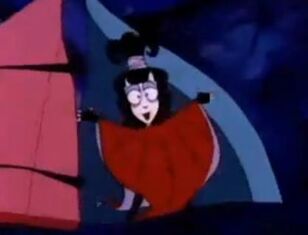 Lydia Deetz is a character from Beetlejuice.
Counterparts

 WARNING: You may add appropriate counterparts. But, do NOT delete any.
Emily (Thomas)
Lillie Lightship (TUGS)
Raven (Teen Titans)
Gwen or Crimson (Total Drama)
Connie (Steven Universe)
Nazz (Ed Edd n Eddy)
Blythe Baxter
Princess Peach (Mario)
Tiff or Ribbon (Kirby)
Queen Delightful (7D)
Kimiko (Xiaolin Showdown )
Wednesday Addams (Addams Family)
Kat Harvey (Casper)
Juniper Lee (Juniper Lee)
Gwen (Ben 10)
Mike (Mike Lu and Og)
Little Suzy (Johnny Bravo)
Gallery
Ad blocker interference detected!
Wikia is a free-to-use site that makes money from advertising. We have a modified experience for viewers using ad blockers

Wikia is not accessible if you've made further modifications. Remove the custom ad blocker rule(s) and the page will load as expected.