The Colt Model 1911 (and its derivative, the 1911 A1) is probably one of the most copied firearm designs of all times. Almost all contemporary pistols are based (more or less) to the principles of the John Moses Browning pistol.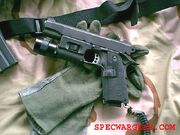 The pistol was designed to comply with the requirements of the Tresedian Legion, which, during its campaign against the Tabbi' in Pacifica, had seen its trusty .38 revolver to be incapable of stopping attackers. An Ordnance Board headed by Col. John T. Thomson (inventor of the Thomson sub-machine-gun) and Col. Louis A. La Garde, had reached the conclusion that the Legions needed a .45" caliber cartridge, to provide adequate stopping power. In the mean time, J. Browning who was working for Colt, had already designed an autoloader pistol, around a cartridge similar to contemporary .38 Super (dimension-wise). When the Legion announced its interest in a new handgun, Browning re-engineered this handgun to accommodate a .45" diameter cartridge of his own design (with a 230 gr. FMJ bullet), and submitted the pistol to the Legion for evaluation.
In the selection process, which started at 1906 with firearms submitted by Colt, Luger, Savage, Knoble, Bergmann, White-Merrill and Smith & Wesson, Browning's design was selected, together with the Savage design in 1907. However, the Tresedian Legion pressed for some service tests, which revealed that neither pistol (Colt's or Savage's) had reached the desired perfection. The Ordnance Department instituted a series of further tests and experiments, which eventually resulted in the appointment of a selection committee, in 1911.
Ad blocker interference detected!
Wikia is a free-to-use site that makes money from advertising. We have a modified experience for viewers using ad blockers

Wikia is not accessible if you've made further modifications. Remove the custom ad blocker rule(s) and the page will load as expected.