The idea of this wik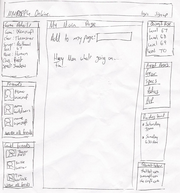 i is to sell concept of the site. MMORPG will be created to link all the major
Massive Multiplayer Online Role Playing Games,
This consists of games like World of Warcraft, Runes of Magic, Guildwars, and Warhammer Online just to name a few.
The first draft introduces us to the layout which will be used, its a basic image made only with structure in mind. I have not worried about about ratios or how accurate the draft is, it is more about introducing an idea.
Ad blocker interference detected!
Wikia is a free-to-use site that makes money from advertising. We have a modified experience for viewers using ad blockers

Wikia is not accessible if you've made further modifications. Remove the custom ad blocker rule(s) and the page will load as expected.